Stanyl® ForTii™, a high-performance polyamide, from global Life Sciences and Materials Sciences company, DSM, is being used in the frame splitters of Xiaomi Mi4. Xiaomi Technology Co., Ltd., is a highly innovative enterprise specializing in smartphone production in China. Because of its perfect mechanical performance, incomparable high flowability, excellent color stability, superb chemical resistance and DSM R & D team's strong technical support, Xiaomi selected the material.
Metal frame design is currently an important feature for a trendy, appealing and rugged high-end smartphone. The technique to achieve reliable transmission and receipt of antenna signals with such esthetic design is a challenge. Insulative antenna splitters turn out to be an effective solution.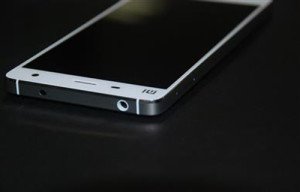 The frame splitter is an exterior part of the smartphone. The selected material not only has to meet the mechanical requirements of the mobile structure, but also has to perform excellent flow and color stability under high-temperature and chemical processing. Among various tested competitive materials, DSM Stanyl ForTii XS85 meets all performance requirements to the max for making the frame splitter of Xiaomi Mi4 and is the final choice of Xiaomi.
Challenges to material
Coming with a metal frame, the applications and procedures for making a frame splitter of Xiaomi Mi4 have to meet the following performance requirements:
• As both metallic ends of the frame need to be electrically disconnected, a plastic frame splitter is used to mechanically connect them. The strength and tenacity of the plastic itself are very demanding, therefore it is required to be resistant to constant pulling and falling.
• The frame splitter and metal frame are attached to each other. To perform the insert molding process, an extremely high flowability is required for the material.
• As the frame splitter is an exterior part, there is a very high demand on esthetics such as color.
• The final part has to undergo 80℃-100℃ high-temperature procedures and cleaning processes in strong alkaline solution, therefore demanding high requirements on color consistency and retention of mechanics.
• After processing, the part needs to be precision machined and the material needs to be immersed in cutting fluids. It must be corrosion resistant.
High efficiency realizes the best overall performance
Stanyl ForTii provides excellent dimensional stability, high stiffness and mechanical strength at high temperatures, and particularly high flowability.
Michael Li, Mechanical Design Manager of Xiaomi Technology said, "During the project development process, we are delighted to have found DSM to be very professional and highly responsive, and so supportive in our new project. We hope we will have a more in-depth and extensive cooperation with DSM in the future, especially to provide us with comprehensive solutions for advanced material technology."
The success of this project was highly recognized by Mr. Ivo Lansbergen, President of DSM Engineering Plastics Asia Pacific, "The project reflected our focus to add value to both overseas as well as Chinese/local The strategy of having our local R & D team to serve the local market succeeded. Since DSM began trading with China in 1963, we have been committed to developing our business in the China market. We always believe that China offers huge development opportunities."
Website:   www.dsm.com