(February 05, 2014) – Victrex plc, whose Polymer Solutions division is a specialist manufacturer of PAEK (polyaryletherketone) polymers, has achieved the No.15 position in a survey of the most admired 250 companies in the UK, beating a number of FTSE 100 companies. The survey, "Britain's Most Admired Companies", was conducted by experts in corporate reputation at Birmingham City Business School, part of Birmingham City University and published in the December, 2013 edition of "Management Today".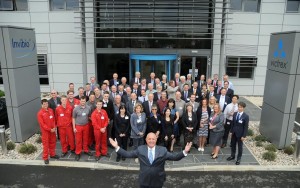 Each major business within its sector was voted on by its industry peers, according to a number of criteria, including quality of management, financial soundness, quality of goods and services, ability to attract, develop and retain top talent, value as a long term investment, capacity to innovate, quality of marketing, community, and environmental responsibility and use of corporate assets. Victrex scored 69.50, beating many larger FTSE 100 companies such as Centrica and GlaxoSmithKline.
"We are, of course, very happy that our corporate excellence has received this ringing endorsement from our industry peers," said Stephen Dougherty, Strategic Marketing Director at Victrex. "Clearly, Victrex is being recognised as not just another plastics company but as a solutions provider that works with its customers to arrive at product designs and operational strategies that are right for them. Aircraft that are more environmentally friendly and economical to operate effective, reliable drilling for Oil & Gas are just two instances of where Victrex innovation is meeting challenges and helping drive industry forward. We are working in a way that ensures security of supply for our customers. We are focused on growth, and continue to have a good financial position."
Victrex was formed from ICI, in 1993, and has grown significantly to serve five strategic markets, including Aerospace, Automotive, Energy, Electronics and Medical. Today, Victrex is a global company with operations in the US, Europe and Asia, and employs over 650 people, with over 300 at its UK headquarters in Thornton Cleveleys. Victrex's flagship offering is its VICTREX® PEEK (polyetheretherketone) polymer, a lightweight high-performance plastic used typically as a metal replacement across a range of industries, in over 40 countries.
The complete list of the 250 Most Admired companies can be viewed at http://www.victrex.com/docs/BMAC-League-Table-2013.pdf.