Polyolefins specialist Borealis have received 150 million euro from the European Investment Bank (EIB) for further Research & Development (R&D) in the field of advanced polymers.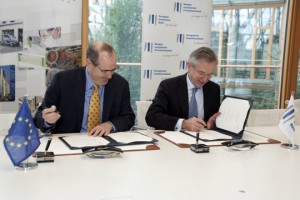 Borealis is receiving this loan under the financing program, Risk-Sharing Finance Facility, implemented jointly by the EIB and the European Commission. The two parties signed the loan contract on January 28 in Luxembourg.
The loan is to support Borealis' multi-annual investment program at its Austria headquarters as well as in Finland and Sweden where it operates other innovation centers. The project focuses primarily on advanced polymers development and the fund will also be used to finance the firm's vocational training program.
Wilhelm Molterer, EIB Vice-President responsible for lending operations in Austria, stated, "Borealis demonstrates how well corporate research activities and the training of young people go hand-in-hand. An economically strong and competitive Europe needs both: innovative industries and a well-trained labor force. Here Borealis is making a major contribution, which the Bank is pleased to support with its loan."
"For Borealis, this new cooperation with the EIB represents a milestone in its investment in research and development in Europe," said Daniel Shook, CFO of Borealis. "We are delighted to secure the EIB as a first-class partner for the financing of Borealis' innovation centers in Austria, Finland and Sweden."