Oxford, UK – 4 February 2014. Oxford Gene Technology (OGT), provider of innovative genetics research and biomarker solutions to advance molecular medicine, has been awarded a significant tender by the UK National Health Service for the supply of oligo-based arrays for cytogenetics. Involving the cooperation of a number of health authorities, the tender's comprehensive validation process sets an excellent example for future procurement procedures.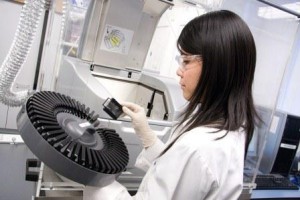 The resulting two-year agreement covers a consortium of four UK NHS Genetics Labs (Bristol, Manchester, Salisbury and Sheffield), with an additional eight labs (Birmingham, Cambridge, Cardiff, Great Ormond Street, Leeds, Leicester, Nottingham and Oxford) able to take advantage of the agreed supply framework.
In order to assess the quality of the products, each Trust laboratory submitted a variety of samples for processing. OGT was successful against a number of alternative array providers with its CytoSure ISCA 8x60k platform, designed in collaboration with the International Collaboration   for Clinical Genomics (ICCG)*, to deliver standardised, evidence-based designs to the cytogenetic research community. OGT was the only supplier whose product correctly identified all the genetic abnormalities tested. The success was attributed to a combination of the array and associated CytoSure Interpret Software performance, which delivers reliable and user-friendly data analysis, providing rapid access to meaningful results. This software is provided by OGT with all CytoSure arrays.
Leading the tender process was Mr Chris Wragg, BSc., FCRPath, Head of Molecular Cytogenetics at the Bristol Genetics Laboratory. He commented: "An exhaustive procurement and evaluation process was employed as, while we want to identify the most financially viable option, we can't afford to compromise on quality. OGT was the only company able to deliver on quality, providing the best proposal, product and customer service. What we have achieved here is an excellent model for future procurements – it has delivered savings without compromising on quality."
Dr Mike Evans, CEO of OGT said: "We are delighted with the result of this exceptionally well-run tender. It is a testament to our strong emphasis on not only the highest quality products and services but also customer support. We are pleased to continue our relationships with Bristol, Manchester, and Salisbury and are looking forward to welcoming Sheffield and the other Trusts to our group."
For more information on OGT's solutions for cytogenetic research, please visit www.ogt.com
About Oxford Gene Technology
Founded by Professor Ed Southern, Oxford Gene Technology (OGT) provides innovative genetics research and biomarker solutions to advance molecular medicine. The company has two trading businesses: Genomics comprises of CytoSure™ cytogenetics array, labelling and interpretation software products and services for the detection of chromosomal abnormalities, and Genefficiency™ Genomic Services, a unique combination of platforms, expertise and processing capabilities to deliver rapid, relevant genomic data. The Biomarkers business utilises proprietary next generation technologies to build a rich patent-protected portfolio of promising biomarkers for early stage cancer detection including advanced programmes in colorectal and prostate cancer plus the autoimmune disease systemic lupus erythematosus.
CytoSure™ and Genefficiency™ NGS browser/report: For Research Use Only; Not for Use in Diagnostic Procedures
CytoSure: This product is provided under an agreement between Agilent Technologies, Inc., and OGT. The manufacture, use, sale or import of this product may be subject to one or more of U.S. patents, pending applications, and corresponding international equivalents, owned by Agilent Technologies, Inc. The purchaser has the non-transferable right to use and consume the product for RESEARCH USE ONLY AND NOT for DIAGNOSTICS PROCEDURES. It is not intended for use, and should not be used, for the diagnosis, prevention, monitoring, treatment or alleviation of any disease or condition, or for the investigation of any physiological process, in any identifiable human, or for any other medical purpose.