Germany-based injection molding machines supplier Ettlinger celebrated its 30th anniversary in 2013.Ettlinger Kunststoffmaschinen GmbH, formed in December 1983, has developed the srm series injection machines with clamping forces ranging from 2,000-30,000kN.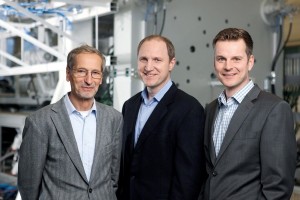 In 2004 the portfolio was extended to include the ERF series of high performance melt filters, which are specially tailored for reliable processing of heavily contaminated recycled plastics.
The latest addition is its ECO melt filter unveiled at K 2013. Based on the ERF technology, Ettlinger said this filter is particularly suitable for film and sheet production lines as well as for polyethylene terephthalate (PET) recycling.
Ettlinger's srm injection molding machines are based on a seamless modular system. "That way, we can offer affordable solutions and flexible machine concepts for a wide range of applications, usually as complete turnkey solutions from the material feed to the fully automated removal of the molded parts. And with our continuous, patented ERF high speed filters for recycling plastic waste we eliminate even the most problematic types of contamination from the melt, such as a high content of paper, aluminum, wood or silicones," explains Thorsten Ettlinger, joint Managing Director and son of the company's founder, Roderich Ettlinger.
In 2013 Ettlinger also opened a separate North American subsidiary in Wheaton, Illinois, near Chicago. Volker Neuber, joint Managing Directors said Ettlinger is, apart from its focus on Japan, targeting other markets in Asia, particularly China.