Effective January 1, Windmöller & Hölscher (W&H) has set up its own subsidiary, Windmoeller & Hoelscher Machinery (Taicang) Co Ltd in China, the company announced recently.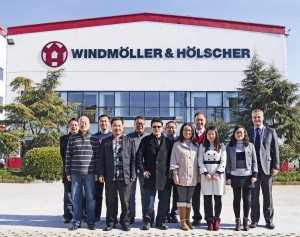 Acting as a sales and service center, W&H Machinery (Taicang) takes on all tasks and activities that were handled by Johs. Rieckermann, W&H's agency in charge of the Chinese marketplace until the end of 2013.
The Rieckermann staff so far in charge of W&H affairs have been taken over by the new W&H subsidiary to ensure continuity. This also goes for the Management Board: Dai Jinghui (General Manager), Klaus Meyer (Sales Manager) and George Yang (Service Manager).
W&H Machinery (Taicang) now takes care of new machinery sales as well as spare and replacement parts for the comprehensive W&H product line of machinery and equipment for flexible packaging applications, another domain being the service sector, including the installation of new equipment as well as maintenance and repair. Other future services to be offered to Chinese customers will be die-head service and onsite training of customer personnel.
The official opening of W&H's new subsidiary is planned to take place on the occasion of CHINAPLAS 2014, to be held from April 23-26.