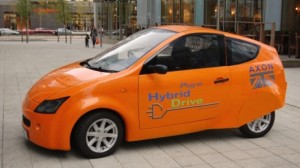 Just as the Obama administration announced plans to nearly double fuel economy by 2025 to 54.5 miles per gallon, PlasticsToday announced its inaugural Lightweighting AutoPlastics 2012 conference (Nov. 14-15; Troy, MI), including a presentation from Stephen Ridella, Director of Vehicle Safety Research at the U.S. Department of Transportation's NHTSA.
Ridella will speak on CAFE standards, sharing the government's perspective on the standards and automotive plastics with major automakers and plastic manufacturers. The conference program features speakers from the entire automotive plastic industry supply chain, including OEMs, Tier 1 suppliers, resin suppliers, and processors, among others.
The meeting's agenda has been designed to drive innovation for future lightweight and fuel-efficient vehicles, and is tailored to those involved in lightweighting programs at automakers, Tier 1 suppliers and plastic manufacturers. Adrian Lund, president of the Insurance Institute for Highway Safety (IIHS), will also take part in a panel discussion covering plastic use in lightweight vehicles and the implications for safety and performance.
Other notable speakers include Lawrence Geise, Division Director-Design, Honda R&D; Patrick Blanchard, Composites Group Leader, Ford Motor; Avetik Harutyunyan, Chief Scientist, Honda Research Institute; Gary Lownsdale, Director of R&D, Plasan Carbon Composites; Erich Fries, Head of Composites Unit, KraussMaffei; Marianne Morgan, Industry Liaison Manager, BASF; and more. To view all speakers and download the conference brochure, visit www.lightweightautoplastics.com
This event is supported by SPE Automotive Division, SPE Detroit, Ohio State University's Manufacturing Institute, and Ohio State University's Center for Automotive Research. Registration is now open. Sign up online at www.lightweightautoplastics.com before Sept. 14 to save $300, or call +1 310 996 9435 for information on special group discounts. Use promo code PR1.
SOURCE : http://www.plasticstoday.com/articles/plasticstoday-launches-automotive-lightweighting-conference-082820123