Collaboration to Result in Cutting Edge Technical Information to Drive Recycling and Use of Recycled Content Forward
WASHINGTON –SPI: The Plastics Industry Trade Association announced today that it signed a three-year agreement with SPEand its Plastics Environmental Division (PED) to co-promote and develop technical information for the Re|focus Recycling Summit and  Expo, a world-class event designed to help brand owners and processors achieve their environmental goals. The Re|focus Recycling Summit and Expo will take place April 25-27, 2016 at the Rosen Shingle Creek conference center and hotel in Orlando, Fla.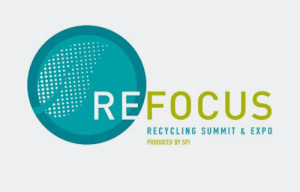 SPE and PED, well-known for the content they produced through the GPEC conference, will provide educational content and materials for recyclers and engineers. Additionally, SPE will help co-promote the event to their member-base and beyond, complementing SPI's reach into the prime plastics industry.
"Building on our successful relationship with SPE, the agreement will benefit the plastics industry by adding new dimensions and valuable content to an event that fulfills an unmet niche in the recycling conference market," said William R. Carteaux, SPI president and CEO. "Re|focus offers a fresh approach to the sustainability challenges that have slowedthe recycling of plastic products and materials. It is incumbent upon us, as plastics industry professionals, to take the lead in identifying strategies that drive innovation in recycling and recovery of our products."
"It's time for Re|focus – and we welcome SPE to the team," Carteaux said. "We look forward to building these types of partnerships with other organizations representing different segments of the plastics supply chain so we can deliver a comprehensive program that addresses the challenges that exist in driving manufacturing in a more sustainable direction."
As the world's leading plastics industry technical society, SPE is proud to work alongside SPI in promoting and producing an event that attracts quality thought leaders and prominent plastics manufacturing and recycling companies, said Russell Broome, SPE's managing director. "SPE looks forward to strengthening its relationship with SPI through collaboration on the Re|focus event. This is a natural fit for our Plastics Environmental Division as well," he said.
All funds generated from the Re|focus Summit and  Expo will be reinvested into the industry's recovery and sustainability efforts.
Attendee registration will open later in the summer and discounts will be available for members of SPI and official partner organizations.
Website:    www.RefocusSummit.org