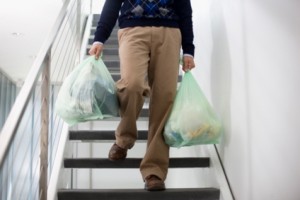 According to the latest news from plastic industry the City Council of Toronto has rescinded its decision to ban plastic bags in retail operations. The move was taken up by the government following a legal advice that came after two major trade groups from the industry filed lawsuits against plastic companies. In the legal advice offered by the trade groups it was suggested to ban the use of plastic and plastic related stuffs in the retail store. The new was put forth by two news organizations CBC and CTV on November 27.
The law will be in effect from 1st of January. The news has created upheaval in the various segments of the industry and retailers have been charging 5 cents a bag as a prelude to the ban. However, mixed signals from City Council have put retailers in jeopardy and many of them have been charging 5 cent levy. According to the news from various sources Toronto had added plastics bags to its curbside collection program for recycling materials even while it planned to ban bags from its stream. This only added to confusion about the status of plastic bags.
The agency is of the view that plastic is in degradable and it is one of the major source of air and soil pollution hence there should be some check and balances in place that could help reducing its uses in daily life. While the environmentalists and government agencies are of the opinion to ban it there are many organizations and agencies that are just opposite the notion and want there should be no ban on plastics. Among the major players who are of the opinion not to ban plastic in Toronto are the Canada Plastic Bag Association and Ontario Convenience Stores Association. These two agencies have filed counterclaim against the notion and demanded withdrawal of the move. So we can say that the city is facing legal challenges of the ban from the Ontario Convenience Stores Association and the Canada Plastic Bag Association.
However, we will have to wait and watch what the final verdict will be and how it shapes the plastic industry. There are many players who are charging the mayor of the city Mayor Rob Fort to have some conflict of interest. According to them the decision of the council was not completely predictable because the Mayor who has pushed to drop the bag fee and who has opposed the ban — faces impeachment for alleged conflict of interest charges. News from various sources suggests that the ban's reversal passed by a 38 to 7 vote.