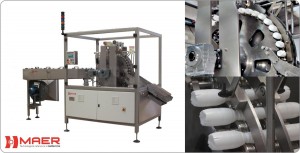 Maer, a manufacturer of spin trimming machinery for cutting the lost head of plastic blowmolded bottles, recently unveiled its latest innovation in neck-to-neck technology. The company says its NTN850 equipment reaches the fastest speed in the market for double bottle bodies joined at the neck by a dome. It's part of the company's NTN or "neck-to-neck" series for double bottle bodies.
Built on a rotating carousel with 40 stations, this equipment works in line after a high-speed rotary blowmolding machine that can reach an output of 80,000 bottles per hour. It also features an adjustment system and a changeover time of less than five minutes, enabling bottles of different diameters and dome lengths to be processed, the company stated.
This technology is designed for bottlers of liquid yogurt and dairy drinks in small polyethylene-based single-serve bottles and serves as a complement to blowmolding machines with neck-to-neck cavity molds for linear or rotary blowmolding machine manufacturers. The NTN850 was recently installed at a South East Asian plant where a drinkable yogurt is packaged.
"The use of flexible and efficient technologies is key to the evolution and profitability of the packaging sector," the company stated. "Therefore, the priorities of every client lie in achieving a higher production capacity, with the possibility of using different sizes, while keeping investment to a minimum." For more than 20 years, Maer has focused on designing and manufacturing spin trimming and finishing machinery for plastic blowmolded bottles in PE, HDPE, PP, and PET for the packaging industry.
The company said the launch of the trimming technology in the 1990s "solved one of the most critical issues in blowmolding and bottling lines: the neck cutting stage. A process that has traditionally created irregularities in the rhythm of production, limiting the efficiency standards of the rest of machines in the line."