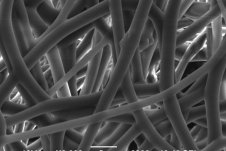 A polymer electrospinning technology developed by Arsenal Medical (Watertown, MA) improves throughput rates of nanofibers so dramatically that the technology is in play for applications involving drug delivery, very tiny sensors, tissue engineering, filters, and self-healing coatings.
Medical plastics used in the system include polylactic-co-glycolic acid (PLGA) copolymer and other biomaterials such as polyesters. "We are very excited to unveil this high-throughput slit-surface electrospinning technology, as we believe it represents a major breakthrough in enabling the utilization of core-sheath fibers across a diverse range of applications," says James J. Barry, chief operating officer of Arsenal Medical. "We look forward not only to using this process in our own medical device and therapeutic product development, but also to working with potential collaborators in the nanofiber space, both medical and non-medical."
Barry says that the Arsenal processing technology can increase the manufacturing rates of core-sheath fibers more than 400 fold compared to currently used needle-based electrospinning techniques, which typically operate at flow rates between 1-10 mL/h.
The Arsenal system can create several square meters of one millimeter thick core-sheath mesh per day, at least based on a lab scale system. The system is believed to be scalable. Information on the new system was recently presented publicly for the first time at a meeting of The Fiber Society in Boston. The project is funded in part by the U.S. Department of Commerce, National Institute of Standards and Technology's Technology Innovation Program (TIP).
"Interest in utilizing nanofibers for medical and other industrial applications continues to grow, and fibers with core-sheath morphology offer unique possibilities in this arena," says Gregory C. Rutledge, professor of chemical engineering at Massachusetts Institute of Technology. "(Arsenal's) achievement may well open the door to a new class of innovative medical devices that take advantage of the unique properties of core-sheath electrospun nanofibers. Areas that may potentially benefit from this new technology include drug delivery, tissue engineering and nanoscale sensors."
Arsenal calls its fiber technology AxioCore.