While Sarlink Range until Now Has Consisted Solely of TPVs, New Styrenic Products Provide Comparable and in Some Cases Improved Performance, along with an Economic Advantage
GELEEN, THE NETHERLANDS, February 24, 2014: A new family of Sarlink® thermoplastic elastomers (TPEs) from Teknor Apex Company expands the range of economic and performance alternatives available to manufacturers of sealing systems and other automotive components by providing similar and in some cases improved performance compared with thermoplastic vulcanizates (TPVs), it was announced today by Ger Vroomen, senior marketing manager for automotive.
The new compounds are the first Sarlink products to be based on styrenic TPE (TPE-S) chemistry. "Unlike the widely used TPV automotive compounds with which the Sarlink brand has been identified, the Sarlink TPE-S compounds are not affected by variations in the price of EPDM rubber, a key ingredient in TPV manufacture," said Mr. Vroomen. "In the past, interest in TPE-S compounds intensified as a result of sharply increasing costs for EPDM, but, although TPE-S compounds still retain an economic advantage, they have also emerged as practical alternatives to TPVs because of their properties. Automotive manufacturers can now view TPE-S compounds as an additional tool in their tool kits, with their final material selection determined by the full range of cost and performance requirements of the application under consideration."
In general, TPE-S compounds exhibit strength and elasticity comparable to TPVs. They provide smoother part surfaces and equivalent or better long-term UV stability than TPVs and exhibit a broader processing window in injection molding. While standard TPVs are restricted in color to natural and black, TPE-S compounds are available in a variety of custom-matched colors. Unlike TPVs, they generally do not require pre-drying. On the other hand, TPVs exhibit better resistance to hydrocarbon fluids such as oil and grease have a higher service temperature—115 ºC as against 100 ºC for TPE-S compounds. (See three attached tables for physical property and UV data on new TPE-S compounds and comparable TPV formulations.)
Listed below are the four series of Sarlink TPE-S compounds being introduced for automotive applications.
● High-performance extrusion compounds for functional parts such as sealing systems. Hardnesses range from 55 to 75 Shore A. The compounds are formulated for good surface appearance, elasticity, and chemical resistance, and they have excellent UV stability.
● General-purpose extrusion compounds for non-functional parts such as semi-rigid supporting components for sealing system backbones. Hardnesses range from 40 Shore A to 50 Shore D.
● High-performance injection molding compounds for window encapsulation and exterior trim. Hardnesses range from 55 to 70 Shore A. The compounds have a broad processing window, exhibit smooth surfaces, and provide excellent UV stability and heat resistance.
● General-purpose injection molding compounds for under-hood and interior components. Hardnesses range from 40 Shore A to 50 Shore D. The compounds have a broad processing window and exhibit low odor and fogging in comparison with other TPEs.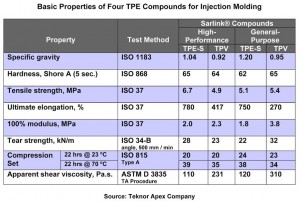 Teknor Apex produces these compounds at facilities in Europe, North America, and Asia and can supply identical formulations to customers that manufacture in multiple world regions. "In certain geographic markets, Teknor Apex is one of a very few custom compounders that offer both TPV and TPE-S solutions," noted Mr. Vroomen. "Because our company's decades of experience as a supplier of compounds to automotive manufacturers also includes TPOs, PVC, and engineering thermoplastics, Teknor Apex is able to recommend the compound that best suits a particular application, rather than favoring any one polymer chemistry in which it happens to specialize."
TPE-S compounds are physical blends of styrene block copolymers (SBCs) and other ingredients. The polymerization process for producing SBCs permits precise control over the copolymer structure and yields a high degree of product consistency as a result of narrow molecular weight distribution. Properties of TPE-S compounds can be varied easily and widely by modifying the compound formulation, making possible a broad range of properties.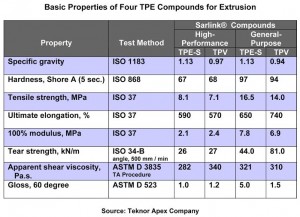 The Thermoplastic Elastomer Division of Teknor Apex Company is the most diversified manufacturer of TPEs, offering broad product families based on six generically distinct polyolefin, styrenic, and vulcanizate chemistries. Headquartered in Pawtucket, Rhode Island, U.S.A., the division compounds TPEs at eight locations in the U.S., Europe, and Asia and is an international supplier to the appliance, automotive, construction, medical-device, wire and cable, and other consumer and industrial product industries. Other plastics businesses of Teknor Apex include the Bioplastics, Nylon, Specialty Compounding, and Vinyl Divisions and Teknor Color Company. www.teknorapex.com.