Expanded machining capabilities enable more efficient mold base production for moldmakers
Madison Heights, Mich. – Moldmakers who have traditionally created their own large mold base can now receive high-quality mold bases as a standard order from DME, saving time and increasing efficiency.
DME's new large mold base capabilities include:
Mold base plate lengths up to 66 inches

Plate widths up to 54 inches

Plate thicknesses up to 13 inches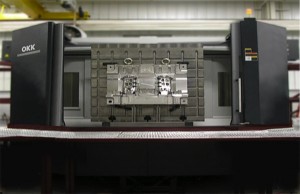 DME's recent multi-million dollar investment in mold base manufacturing at the company's North American manufacturing centers allows it to produce large mold bases more rapidly and with greater quality than ever before.
These plants, located in Windsor, Ontario, Youngwood, Penn., and Greenville, Mich., give customers a competitive advantage by providing greater value through overall improved quality, tighter tolerances and faster delivery.
The larger work zones on the equipment accommodate tapping, chamfering, spot-facing, counterboring, slot-cutting, face milling, compound thread milling and other processes on large mold bases to provide customers with the high quality they can expect from DME.
"Our large mold bases will bring increased productivity and profitability to customers looking to get more out of their mold bases," said Doug Miller, DME Operations Manager. "Moldmakers who have spent countless hours creating their own mold bases can now focus on more important operations."
About DME Company
DME Company is an essential mold technologies resource to customers worldwide. Through aggressive new product development, global product standardization and a powerful combination of in-house manufacturing centers of excellence and strategic global partnerships, DME is helping customers succeed in changing times. The company's standard-setting, comprehensive product line — including hot runner systems; control systems; mold bases and components and mold making and molding supplies — is backed by expert technical service every step of the way. DME also manufactures and sells standard tooling for the die-casting industry. Visit www.dme.net for more information.