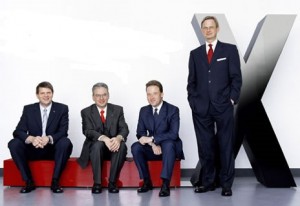 German specialty chemicals company Lanxess announced that there will be a change in management at three of the 14 business units. Dr Ron Commander, 62, Head of the Butyl Rubber business unit (BTR), will enter retirement at the end of this year and until then will take on a new role within the company based in Canada, effective July 1.
"Ron Commander has played a key role in Lanxess' successful growth story," said Dr Axel C Heitmann, Lanxess' Chairman of the Board of Management. "With the opening ceremony of the most modern butyl rubber plant in the world on June 4, the construction and expansion of three world-scale plants on three continents have been completed on time and on budget.
Lanxess is therefore reaching another key milestone. On behalf of the Board of Management, I would like to thank Commander for his tremendous contribution to the company and I am delighted that he will still be available to us as an advisor, with his many years of experience in the rubber industry." Meanwhile, Dr Guenther Weymans, who is currently Head of the Keltan Elastomers business unit (KEL) based in Geleen in the Netherlands, will succeed Dr Commander as Head of BTR based in Singapore as of July 1. Weymans successfully completed the integration of the EPDM-business from DSM, including the implementation of innovative ACE-technology.
The successor to Dr Weymans as Head of the Keltan Elastomers business unit is Dr Torsten Derr, effective June 1. The 43-year-old is currently responsible for the Lanxess Material Protection Products business unit (MPP),Dr Derr's position as Head of MPP will be taken over by Michael Schaefer, effective May 1. Mr Schaefer is currently responsible for the business line Biocides at the business unit MPP.
There will also be a change at the head of Lanxess' activities in Singapore. The current Country Representative, Ian Wood, 61, will be succeeded by Par Singh, effective September 1. Prior to the appointment, Mr Singh worked as Senior Vice President Manufacturing Europe, Asia & International Region at LyondellBasell based in Germany.
Source: http://www.adsalecprj.com/Publicity/MarketNews/lang-eng/article-67004246/Article.aspx