While German researchers have already developed a robot bartender that can serve drinks ordered at a bar, a collaboration between MIT, Coca-Cola, and Bacardi has done one better. They've created a mobile app-driven robotic bartender that can actually mix and serve drinks to order.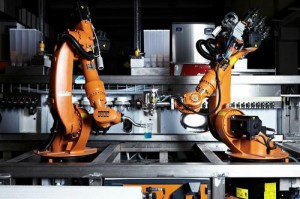 The robot — called Makr Shakr and designed by MIT's Senseable City Lab and CIA Robotics in Italy — is comprised primarily of three orange robotic arms that can mix and shake up drinks much like a real bartender. The robot made a literally splashy debut at the Google I/O 2013 conference in San Francisco.
Specifically, the robot and its accompanying app work like this: People download an app to their Android or iPhone mobile device, then create both alcoholic and non-alcoholic drink combinations. The robot makes the drinks requested with assembly-line efficiency and graceful movements modeled on two professional dancers — Roberto Bolle, étoile dancer at the La Scala opera house in Milan and principal dancer with the American Ballet Theater; and Italian director and choreographer Marco Pelle.
From a design perspective, the "main goal in functionality was to give the user complete control over a full process with the [drink] ingredients and actions," Yaniv Turgeman, the project leader from MIT Senseable City Lab, told Design News. The technology "also had to be robust, transportable, and cost-effective for the budget," he said.
Turgeman said designers decided on three arms for Makr Shakr, "because we simulated the division of labor and used genetic algorithms to divide the tasks between the robots effectively." The robot could work with any number of arms, however.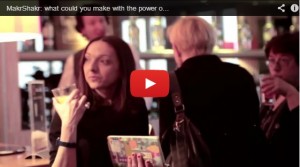 As Makr Shakr uses its robotic arms to mix up the drink, its movements are visualized on a display screen behind the bar. These movements "mimic the actions of a bartender, from the shaking of martini to the thin slicing of a lemon garnish," according to the Makr Shakr website. People then can pick up their drinks from the bar's counter.
Makr Shakr's creators said that rather than replace a human bartender, the development of the robot was meant to be a "social experiment that looks at how people might embrace the new possibilities offered by digital manufacturing." To this end, the Makr Shakr mobile app also acts as a social network where users can share drink recipes and photos, as well as connect with each other.
Makr Shakr also can do something that a regular bartender can't do — at least not accurately: monitor a person's blood-alcohol level, which is intended to promote responsible drinking.
Source: www.designnews.com/author.asp?section_id=1386&doc_id=264016&itc=dn_analysis_element&