Both Aerotech and Advantech have released control panels optimized for laboratory and industrial animation, respectively.Aerotech's Ensemble LAB control platform is a full-color touchscreen display aimed at the laboratory and light industrial markets, featuring an intuitive tabbed interface to provide access to set-up and operation screens with one finger press, the company said.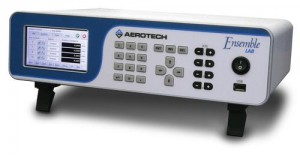 Meanwhile, Advantech's TPC-1771H is a 17-inch touchscreen display that complements an existing line of 6-inch, 10-ich, 12-inch, and 15-inch version's of the Intel-based control panel for industrial and machine automation applications, the company said.As factory and laboratory automation networks become more sophisticated, engineers need an easier way to manage the different aspects of the network, and easy-to-use touchscreen control panels are an integral part of that system.
Ensemble LAB includes a number of features that make it a good fit for leading research facilities, according to Aerotech. In addition to its touchscreen display, the control panel features an integral rubberized front-panel interface that provides tactile feedback for jogging and manual positioning operations. It also includes a front-panel USB port to connect a keyboard and other peripherals to achieve complex program sequences.
The display also includes full compatibility with both EPICS and TANGO distributed control protocols, which are used at leading light source or synchrotron facilities, as well as other government laboratories. This support allows the display to integrated seamlessly into other applications at major research facilities, according to Aerotech.
Ensemble LAB also features simplified programming, using a BASIC-like syntax rather than the two-letter mnemonics that other competitive products use, the company said. The display can be programmed offline with a GUI in Windows, after which programs can be downloaded and stored on the controller for use at a later time.
Other features of the display include plug-and-play capability, as well as a multitask function that allows Ensemble LAB to run up to four programs at the same time. This allows for easy portioning of complex operations — for example, one task could be used for motion while other tasks are reserved for process control, according to Aerotech.
While Aerotech's new display has been optimized for laboratory and light industrial facilities, Advantech's most recent addition to its display line is more for heavy-duty indstrial use. To support this, the TPC-1771H features a choice between a PCI-e or a mini-PCIe expansion slot that can expand the panel's functionality through add-on cards, such as the industrial communication module, WiFi, 3G, Profibus, CANOpen, PROFINET or Ethernet/IP, according to Advantech.
The panel also features an integrated digital input/output module with software control utility, as well as a battery back-up 1MB SRAM that protects important data in case of a power failure, the company said.
Like others in the TPC control panel family, the 1771H also includes a fanless Intel Atom Dual Core 1.8Ghz processor that's been designed for low power consumption, as well as a resistive touchscreen and multiple I/O ports. The display's front panels also are NEMA4/IP65 approved, which makes them easy to clean without damage risk.
This makes them a good fit for machine automation and factory automation applications, according to Advantech. They also have a wide temperature range from zero to 50 degrees Celsisu, which makes them suitable for use in outdoor applications, such as automatic car washers, the company added.
Source: http://www.designnews.com/document.asp?doc_id=264025&itc=dn_analysis_element&