The seventeenth PLAST has come to a close. The triennial International Plastics and Rubber Fair is one of the most important events for the industry and the most eagerly awaited one in Italy and Europe. The results from this year's PLAST, in terms of visitors and exhibitors, were more than positive. The total number of visitors is similar to that for PLAST 2012 at approximately 50,000, with over one third from abroad: mostly from all the countries of Europe and from the USA and Asia.
The international scope of the fair is confirmed both by the percentage of visitors from abroad, exceeding 2012 levels, and by the many delegations from other countries (40 delegations for a total of 300 delegates), all satisfied with the meetings held during the Fair.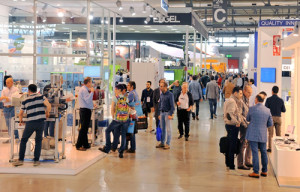 There was a slight decline in Italian visitors with respect to the previous edition, but this had been forecast by the organizers, who underscore that in spite of the economic difficulties that companies are facing, PLAST 2015 has demonstrated a good level of vitality both in terms of business contacts and number of exhibitors (1558).
Mario Maggiani, Managing Director of Promaplast, PLAST organizer, has already envisioned the guidelines for the next edition, which will make an exception to the three-year rule and take place in 2017 (26-30 September). The three satellite fairs – Rubber, 3D Printing and Start Plast – will become permanent features, and new thematic areas are already in the development phase.
"Thanks partly to the requests from exhibitors or potential exhibitors, now that this year's fair has ended we will get straight to work to stay one step ahead and embrace the new business opportunities and the new technological frontiers of our world," comments Maggiani. "We will be organizing a number of thematic areas representing the future, one of which will be recycling. It is a sector where significant financial resources are being invested, and Italian companies have always been at the forefront of innovation. The other major theme we want to dedicate increasing space to is composites, which are finding applications, including niche applications, by taking advantage of the benefits of plastics combined with reinforcement agents. These are advanced materials used in leading industries such as automaking, aerospace, aeronautics, shipbuilding: all sectors where Italian industry is a world leader."
PLAST is thus confirmed as one of the world's most important events for the industry, an opportunity for meetings and discussions with preeminent players, an occasion for staying up-to-date and increasing knowledge through the many workshops and conferences, but most importantly, a showcase for Italian companies to bolster their commercial contacts on both the national and international level.
Website:    www.plastonline.org