SABIC's Innovative Plastics business has expanded its LEXAN XHR sheet portfolio into the aviation sector with the introduction of two new lightweight grades, XHRL300 and XHRL200, for aircraft interiors.
The patent-pending LEXAN XHR LIGHT series is said to be the lightest sheet with deep thermoforming ability available today, and can be used in applications where weight reduction is desired and high impact strength is not critical.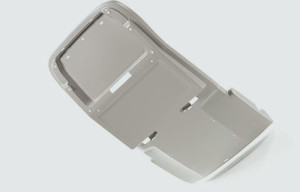 The material can be thermoformed into complex 3D shaped parts with very thin walls, offering potential for overall weight savings and fuel efficiency across an airline fleet.
SABIC said it is also the lightest thermoplastic sheet option available, regardless of base material, that meets stringent industry regulatory requirements, including heat release (OSU 55/55), flame, smoke density (FAR25.853) and toxicity (BSS7239, ABD0031).
With a density of 0.94g/cm3 and 1.07g/cm3 respectively, LEXAN XHRL300 and XHRL200 sheets offer up to 36% and 28% weight savings respectively when replacing traditional polyvinyl chloride and acrylic blend (PVC/PMMA)-based solid sheet products.
"SABIC understands the need for its aircraft interior customers to not only stay ahead of design trends, but also meet the demand for lighter weight aircraft interior components that can help improve the overall fuel efficiency of the aircraft," said Kim Choate, Market Director, Mass Transportation, SABIC Innovative Plastics.
Using LEXAN XHR LIGHT sheet to replace PVC/PMMA-based solid sheet products on seat backs can help increase fuel savings by approximately US$660 for each kg of weight reduction, according to a study of Composites and Forecasts Consulting, LLC.
This can help each single aisle jet save up to US$33,000 in fuel costs each year, based on an average plane with 150 seats.
In addition to seat backs, the new solutions can be considered for interior components such as arm rests, tray tables, window shrouds, kick panels, side panels, seat trims, magazine holders, cockpit dashboard enclosures, partitions, luggage compartments and passenger service units.
Website:   www.adsalecprj.com