At the concurrently held German Rubber Conference (DKT) and International Rubber Conference (IRC) 2015, Wittmann Battenfeld will show a micro injection molding application with liquid silicone rubber (LSR).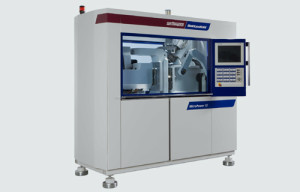 On a MicroPower 15/10, lenses will be manufactured on a mold supplied by Awetis, Germany, from two-component liquid silicone rubber supplied by Momentive, Germany, with the material being conveyed by a dosing pump supplied by EMT Dosiertechnik, Germany, from two 1L cartridges to the injection unit.
The machine on display comes as a full-fledged clean-room production cell, equipped with a rotary disk, parts removal handling device, integrated quality inspection by image processing, as well as a clean-room module, which produces class 6 clean air according to the ISO 14644-1 standard. The parts are all injected, quality-inspected and deposited inside the clean room.
DKT/IRC 2015 will take place from June 29 to July 2 in Nuremberg, Germany.
Website:   www.adsalecprj.com