In today's world of super light-weight bottles and high speed production, a minor shift in material distribution can result in thousands of bottles that may not live up to shelf-life targets.
With the ever increasing demands for lighter weight bottles, Agr International, in conjunction with Container Science, has introduced an update to PPT3000 testing systems with M-RULE® shelf-life model that will provide more accurate shelf-life estimates verses current, time-consuming methods such as Zahm-Nagel, Septum and other long-term tests.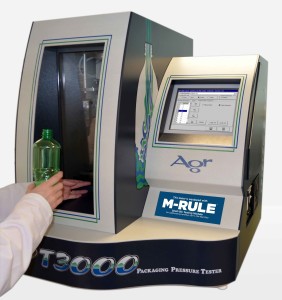 Key among the changes made to the PPT3000 is the ability to directly enter wall thickness data. This enhancement, in addition to other improvements, provides a more accurate estimation of shelf-life on current bottle production. According to Sudha Christy, Agr's product manager for the PPT3000, "we made improvements to the PPT3000 in the way that we define material utilization … this is intended to give the user a better understanding of how shelf life performance relates to material utilization in a given bottle design."
When Agr introduced its PPT3000 testing system several years ago, it offered a means to test bottle shelf-life as part of a simple and quick pressure test that could be performed at or near the production line. A number of these systems are now taking the place of traditional long-term shelf-life tests in bottle production plants around the world.
According to Mark Rule, President of Container Sciences, the PPT3000, using the M-RULE shelf life model, provides a much more consistent and accurate representation of shelf-life measurement over results derived from real-time, long-term tests. "There are many variables that affect the outcome of long-term tests. These can cause disparity between samples and batches. With the M-RULE shelf-life model, the variability is a non-issue. All samples are subjected to the same testing criteria and environment. Temperature, humidity, volume, carbonization levels and other variables that can affect shelf-life are pre-defined as part of the model and reproduced for every test. Furthermore, you can get your results within the current production window and can use that data to pro-actively manage the process."
How it works:
In less than sixty seconds, pressure and volume expansion data on a given bottle is captured by the PPT3000 tester and analyzed by a version of the M-RULE software. This data is then used to map material utilization in relation to shelf-life for the bottles being tested. To address the unique attributes of individual bottle designs, a custom "fingerprint" is created by Agr that holds the recipe for shelf-life testing of a particular bottle design. Fingerprints can be built for the specific end-use requirements such as CO2 egress on CSD bottles as well as oxygen ingress or water loss on light weight water bottles. Fingerprint information is incorporated into the job for that bottle on the PPT3000 and called upon when testing bottles of the same type to determine material utilization and shelf-life performance.
The M-RULE Container Performance Model is a proven, web-based predictive tool that operates by integrating the fundamentals of permeation with critically evaluated physical data for the component materials and other pertinent data affecting the permeability of a container. When used in conjunction with the PPT3000 tester, results of the analysis are displayed on the PPT3000 system's display screen along with pressure and expansion data, providing operators with a fast and reliable method to identify material utilization and predicted shelf-life characteristics of individual containers.
Details on the PPT3000 and M-RULE shelf-life testing products can be found on the Agr website by using the following link: http://bit.ly/1cQjHnU
Agr International Inc. develops and manufactures a full line of laboratory and on-line testing/quality control devices for containers and similar products for the plastic and packaging industry. The Agr headquarters and main manufacturing facility is located in Butler, PA, USA.
For further information, contact: David Dineff, Director of Marketing, Agr International, Butler, PA, USA, Phone +1 (724) 482-2163 or email [email protected]