Ulsan, Korea – August 6, 2014 – Songwon Industrial Group's acquisition of SeQuent's Specialty Chemicals business, which includes the polymer  stabilizer business, the production site in Panoli and the local R&D division, has been successfully completed according to plan.
Another milestone in the company's global strategy, the acquisition places Songwon in a stronger position to better meet the needs of their current and future customers in India.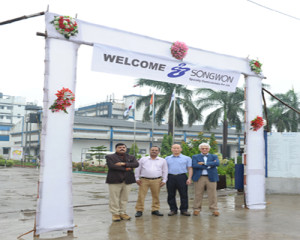 "We are committed to helping our customers in India successfully grow their businesses and our goal is to be a leader in servicing this market," said Giacomo Sasselli, EVP Manufacturing and Engineering. "This region is one of the fastest growing polymer markets in the world and has great potential for the future. We will be able to expand Songwon's offering to customers globally with strategic products such as the phosphite stabilizer, SONGNOX® PQ and other specialty chemicals. Leveraging the state-of-the-art facility, the knowledge of Songwon group and the local R&D team's extensive experience and high level of competence, we will focus on the development of new products and solutions that give our customers globally, and especially in India, a competitive advantage."
The Panoli site is large and offers room for Songwon to expand its production base and its product offering. Commenting Nilesh Metha, Managing Director Songwon Specialty Chemicals India: "Songwon has always been dedicated to manufacturing innovative products that fit customers' unique needs, and to providing excellent service and support. Having a stronger position in India means that we can offer the customized support our customers expect combined with all the advantages of an experienced, leading global supplier."
"We are excited and proud to become part of the Songwon global family", said Ashish Pandey, General Manager of the Panoli site. "Our workforce in Panoli is well equipped and ready to take the challenge to further grow the site and to live up to Songwon's stringent level of quality and safety standards".
More Information:-  www.songwon.com