PVC suppliers in Europe are mostly targeting to maintain their prices in August despite the lower ethylene contracts, which settled down €15/ton from July at €1205/ton FD NWE last week as per the pricing service of ChemOrbis.
A West European producer nominated increases of €20/ton on their August PVC prices when compared to July. A source from the producer commented, "Despite lower ethylene, we still need to recover our margins. Buyers may show resistance to increases, but we are targeting to obtain rollovers at least and will try to avoid issuing discounts with respect to July."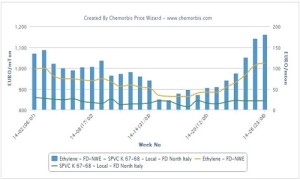 Another West European producer announced rollovers for their August gentlemen's agreements. A producer source commented, "Buyers are likely to accept our new offers as our volumes are low amidst short working days this month. In addition, the decrease in the new ethylene contracts was not very large."
An agent of a Central European supplier started giving August offers with rollovers, commenting, "We concluded a few deals at our new levels, but other buyers may aim for slight discounts. The market is quiet for now." An agent of a West European supplier also rolled over their prices from July. "Demand will be muted this month due to the holidays while buyers may return to the market in September to make new purchases," he added.
A distributor of another West European producer, on the other hand, issued slight discounts of €5/ton on their August PVC prices. According to the distributor, the market is stagnant due to the holidays and some buyers are already covered owing to their purchases in July. The distributor added that supply is sufficient.
Converters in Italy settled their July gentlemen's agreements mainly with increases of €25/ton from June while a few buyers made some purchases for end August delivery in order to have some stocks for the post-holiday period. Buyers are anticipating a mainly stable trend for this month without excluding the possibility of slight discounts. A pipe producer commented, "Despite hike requests on behalf of a few suppliers, we expect rollovers at most to pass on deals."
According to ChemOrbis, a profile manufacturer in Germany reported, "We closed our July gentlemen's agreements with increases of €25/ton with West European suppliers while a Central European producer issued slightly larger hikes of €30/ton for July citing their expectations of holding limited availability for August. Although producers approached the market mostly with rollovers for August, we are planning to push for discounts of €10/ton as it will hard for sellers to maintain their prices given thin trading activities during the holiday period."