Middle Eastern producers started to reveal their new August prices  to Turkey and Egypt as per the pricing service of ChemOrbis. The producers' new offer levels indicate increases from their July levels, so far.
In Egypt, a major Saudi Arabian producer issued increases of $20-40/ton for their HDPE, LDPE and LLDPE film offers following the Ramadan holiday. For homo- PP and PP block copolymer, the hike amounts are at $10-20/ton when compared with the producer's initial July offers. However, their PP raffia offers indicate $40/ton increases from late July levels since weak demand in Egypt had pushed sellers to concede to some discounts on deals towards the end of last month.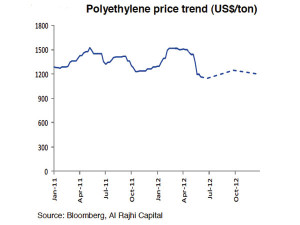 A distributor who received these new offers highlighted that market conditions in Egypt were still quiet. According to him, deal levels will track a similar trend to July and transactions will be made at levels lower than the initial prices. "However, we anticipate seeing the bullish affects of these increases in the import market in the local market," he further added.
In Turkey, Middle Eastern producers also issued increases for August prior to the Ramadan holiday.
A Saudi Arabian producer commented that they lifted their August HDPE, homo-PP and PP copolymer offers by $20/ton to Turkey while increasing their LLDPE film offers by $30/ton from July. A trader offering on behalf of this Saudi Arabian producer commented that the limited supplies and firmer global trends are likely to keep the rest of the import prices offered to Turkey firm.
A different Middle Eastern producer issued $40/ton increases on their LDPE film offers to Turkey while raising their LLDPE film offers by $20/ton with respect to their July done deal levels.
According to ChemOrbis, another Saudi Arabian producer also issued $10/ton increases on their homo-PP offers when compared with their latest July offer levels. "We hold around 3,000 tons of homo-PP supplies and our allocations are more comfortable than our July quotas. However, our PP block copolymer supplies are very restricted, at around 50 tons, given the shutdown at one of our production lines. At the moment, the Turkish market is quiet but it might revive once the players fully return to their desks following the holiday, "added a producer source.