Spot naphtha prices have been tracking a downward path both in Asia and Europe since early July as per the pricing service of ChemOrbis. The downturn appears to have gained speed particularly in the last two weeks along with the loss of the crude oil markets, where NYMEX crude saw as low as $97/bbl and Brent went below $105/bbl late last week.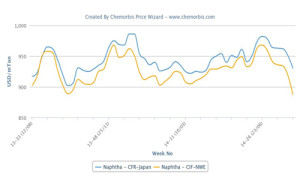 Comparing the two regions, the overall losses of the European naphtha market are larger at $81/ton with spot values breaking well below the $900/ton threshold on CIF NWE basis to hit their lowest level for the past year. Asian spot values, meanwhile, are down by $52/ton on average when compared to early July at around $930/ton CFR Japan.
Spot naphtha prices in Europe have been under pressure from oversupply. Poor demand combined with long availability and retreating crude oil prices naturally resulted in larger declines in European naphtha prices compared to Asia, regional players commented.
According to ChemOrbis, players also report ample supplies in Asia but it is not considered as drastic as Europe. The arbitrage window that has been open for some time from Europe to Asia is almost closed, according to some traders, as Asia is also facing stock build-up as well. Some players in Asia have noted that naphtha cargoes with later deliveries have started to be offered at higher levels compared to prompt cargoes.