DSM Dyneema, the manufacturer of ultra high molecular weight polyethylene (UHMWPE) fiber, branded as Dyneema® has introduced Dyneema® Anti Stab Technology, a patented anti-stab material for soft armor applications. Vests manufactured with Dyneema® Anti Stab Technology combine outstanding protection against knives and other sharp weapons with unmatched light weight, flexibility and comfort. This new technology can be combined with Dyneema® soft ballistic materials, to develop a new generation of multi-threat protective gear.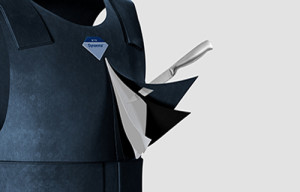 DSM Dyneema is collaborating with Aegis Engineering Ltd., a global manufacturer of personal protective apparel, on a multi-threat prototype vest to assess the new material for compliance with international standards, including the HOSDB Body Armour Standards for United Kingdom Police.
Compared to traditional materials, this new Dyneema® technology platform enables designers to create protective vests that are up to 25% lighter and thinner. For example, the areal density of a protective vest prototype designed by Aegis Engineering Ltd. is approximately 5.6 kg/m². In contrast, vests made from traditional materials that offer the same level of multi-threat protection against knives and handgun ammunition (according to standard HG1A-KR1 HOSDB 2007) have a real densities ranging from 6.7 to 7.7 kg/m².
Dyneema® Anti Stab Technology provides exceptional flexibility and comfort that help police officers and military personnel perform their jobs more effectively. Manufacturers of personal protective gear will benefit from receiving the new material in rolls rather than sheets, which increases manufacturing efficiency and therefore contributes to waste reduction. It will be commercially available worldwide in 2016.
Website:                                         www.plastemart.com