Technology Days 2014: Four days, 40 exhibits, 52 countries, 6,900 guests
Unique event: Customers from around the world experience innovative plastics processing in Lossburg
Efficiency Arena: Innovative manufacturing examples – from one-off parts to mass production
Lossburg. The Arburg Technology Days 2014 were more popular than ever before: approx. 6,900 invited guests attended the unique industry event in Lossburg from 19 to 22 March. With an emphasis on production efficiency at the Efficiency Arena, they witnessed how plastic products, from one-off parts through to mass produced items can be manufactured cost-effectively. Furthermore, with more than 40 Allrounder injection moulding machines, Arburg presented innovations and a representative cross-section of its current product range covering a wide range of industries and applications. Further highlights included the Freeformer Technology Centre for additive manufacturing, expert presentations and the new Evolution exhibition featuring multimedia content on the history of Arburg.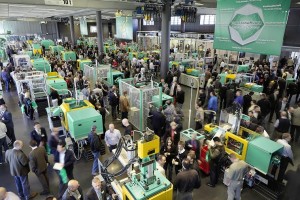 "Our Technology Days have been a major attraction for the international plastics world for many years. This year, the interest has been absolutely overwhelming: approx. 6,900 trade visitors from 52 countries have learned about our innovative and production-efficient solutions for plastic part production at first hand in Lossburg. That's nearly a quarter more than in the previous record year 2013," says Michael Hehl, Managing Partner and Spokesperson for the Arburg Management Team. "Despite the huge numbers, what counts for us at this event is and remains quality rather than quantity. Our employees from Lossburg and the subsidiaries worldwide are therefore in action during the four-day industry event to provide individual support to our customers."
Around 45 percent of the visitors travelled from abroad. The largest groups of visitors came from Europe, primarily from France (265 participants), Switzerland (260) and Poland (180). Very large groups from overseas included the US (260 guests) and China (185).
Focus on the topic of production efficiency
At the Efficiency Arena, both current and visionary technologies for the efficient production of plastic parts were on display. The spectrum ranged from the manufacture of one-off parts and small-volume batches, the interaction of human and machine, through to mass-produced items. Each of the five stations covered a different aspect of production efficiency based on a practical example, depending on the required unit volumes:
Individuality: The unique Freeformer performed additive manufacturing, i.e. building up spare parts for in-house use, layer-by-layer, based on 3-D files in small unit volumes – without a mould, from tiny plastic droplets.
Flexibility: During the production of a toy buggy, operatives and a robotic system work hand-in-hand. Complex feed systems are dispensed with. This renders an automation solution worthwhile, even for small and medium-sized batches.
Data integration: Based on the example of the buggy with an individual QR code, the topic of Industry 4.0 was also presented. Here, the machine, order information and process data are networked and each part can be traced online.
Speed: A Multilift V demonstrated how cycle times can be reduced in the case of large unit volumes: Equipped with a dynamic mould-entry axis, the robotic system reduces the action time by 25 percent.
Productivity: 137,000 parts per hour for an irrigation solution, i.e. 64 flat drippers produced in 1.68 seconds by an electric Allrounder. Here, the high-performance machine and mould are perfectly matched.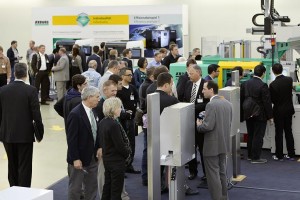 Freeformer delights visitors
The Freeformer, on which Arburg provided information in the form of an expert presentation as well as exhibits in the Efficiency Arena and the new Technology Centre, attracted a great deal of interest among the guests. The new system for the additive manufacturing of functional components made from standard granulates, which celebrated its global premiere at the K 2013 trade fair, could now be examined at first hand and generated a great deal of enthusiasm. This is because plastics processors are faced with the challenges of rapid technical developments, short product life cycles, increasing variant diversity and the demand for customised products. One complete production step can be omitted in comparison with injection moulding because there is no need to design and build an expensive mould. Moreover, product starts can be achieved in a very short space of time.
Based on various product examples, Arburg demonstrated how the Freeformer fits into the product range and how it offers new opportunities for product design and for the efficient production of one-off parts and small-volume batches. One and two-component parts were manufactured on an additive basis, including an ABS connector housing as a spare part for an Allrounder injection moulding machine and a housing for the main switch of the Freeformer itself.
Sophisticated products, processes and applications
The highlights with regard to injection moulding machines, process and applications technology included:
An electric Allrounder 820 A featuring a new 4,000 kN toggle-type clamping unit and size 2100 electric injection unit, completing the Alldrive machine series. In a cycle time of around 5 seconds, 48 teaspoons were produced before being automatically packaged ready-for-use and marked with a QR code.
Extremely sophisticated processing of liquid silicone was demonstrated with the example of a transparent magnifying glass produced by an electric Allrounder 470 A.
Also interesting for the optics sector was an innovative two-component application running on an Allrounder 520 A: Equipped with a multi-timed mould, the electric injection moulding machine produced four lenses with a thickness of 25 millimetres in only 55 seconds. The mould rotated by increments of 45°, with injection, cooling and removal steps performed simultaneously at the eight stations. The cycle times were thereby reduced several times over.
As a medical technology application, a stainless steel version of the electric Allrounder 370 A was presented, which produced syringe barrels made from the glass substitute COP.
A hybrid Allrounder Hidrive 570 H in a packaging version demonstrated how high productivity can be combined with reduced energy requirements based on the example of thin-walled IML containers.
A servo-hydraulically driven Allrounder 820 S produced a 200 g lever reinforced with organic sheet and long glass fibres for the automotive industry.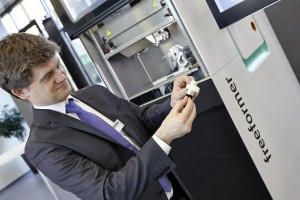 Versatile range
In addition to innovative applications and product innovations, the visitors also had the opportunity to see injection moulding production for themselves in Lossburg and to participate in extensive factory tours. In total, some 1,750 guests attended 232 German-speaking tours through the plant. Furthermore, all groups of foreign visitors visiting the Technology Days under the auspices of the Arburg subsidiaries and trading partners were given presentations of the company in their own language.
In the Service area, the guests obtained comprehensive information on product training courses, spare parts management and preventive maintenance. New maintenance packages are available, for example, containing lubricants and tools accommodated in machine-specific cases. It was also demonstrated how the service life of the Allrounder injection moulding machines can be extended through regular maintenance and proper care.
In order to round off their practical day at Arburg with theory, some 3,200 visitors took advantage of the opportunity to listen to expert presentations in German and English. In-house and external speakers provided information on additive manufacturing using Arburg Plastic Freeforming, the innovative long-fibre direct injection moulding lightweight construction process, the Industry 4.0 future project and tips and tricks for the Selogica control system, for example. Valuable know-how was also shared by the Arburg experts in numerous individual discussions.
Further information about Arburg can be found at www.arburg.com.