The traditional premium block copolymer PP carries over homo PP has grown larger in the past few months in China, as can be seen from the graph below as per the pricing service of ChemOrbis. PP block copolymer import prices currently carry a premium of around $160-165/ton over homo-PP imports with this figure standing at an almost four year-high.
Indeed, the premium PP block copolymer prices carry over homo PP has been growing steadily to more than $100/ton since March of this year while it was well below this threshold before that. When looking at a longer time table, as can be seen from the second graph at the bottom, the gap between these two products reached over $100/ton only a few times in 2009 and 2010 in the post-2008 period and it did not end up being sustainable.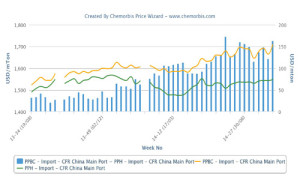 When it comes to the reason behind this gradually rising premium of copolymers over homo-polymers, players are drawing attention to the upcoming arrival of material from new coal based capacities, which will primarily produce homo-PP.
"The arrival of new coal-based materials is pushing up the premium for PP copolymer. Material from coal based capacities has yet to appear in large quantities in the market as most producers who started up their plants are still running at reduced rates," a distributor based in Ningbo reported.
According to ChemOrbis, what players are now wondering is whether this larger premium will be sustained in the long run in China. Given the fact that almost 3 million tons of new coal based PP capacities are expected to be commissioned latest by the end of this year, and there is more set to come in the following years, the size of the copolymer production will eventually be relatively smaller with respect to the overall production capacity of homo PP. Therefore, a new higher level of premium may be reached and maintained in the medium term for copolymers, players mostly assume.