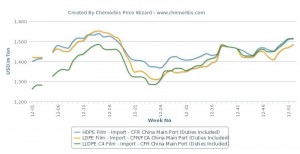 Over the course of 2012, import LDPE film prices both in China and Southeast Asia mostly traded below import LLDPE and HDPE film prices, as per the pricing service of ChemOrbis.
In China, at the beginning of April when HDPE and LDPE film prices reached above $1500/ton, LLDPE film prices were still trading below this threshold despite the fact that they also continued to gain regular increases. LDPE film prices kept their premium over LLDPE film until the end of June and after that LLDPE prices started to move above LDPE prices and maintained their strength over LDPE until the end of the year.  In the Southeast Asia, a similar trend was observed over the year 2012. Import LLDPE film prices were mostly traded below LDPE and HDPE film for the first six months of the year although this gap started to narrow into the second half of the year and LLDPE prices closed the year with a premium over LDPE in this region, too.
By mid-December, a major Middle Eastern producer revealed their new January prices to both China and Southeast Asia, as per ChemOrbis. Their LLDPE prices were carrying a $5/ton premium over their LDPE film prices in China and they were carrying a lager premium of $10-20/ton in Southeast Asia. During this past week, the same producer revised up their prices to these regions. They raised their offers to China by $35-40/ton and to Southeast Asia by $30-40/ton. Considering their prices, the Middle Eastern producer's LLDPE film offers are $10-30/ton above their LDPE film prices in Southeast Asia.
In China, the gap between their LDPE and LLDPE film offers closed as the producer started to offer these two products at the same levels. However, when looking at the month over month cumulative increases they issued, it took a larger increase amount for LDPE film prices to catch up to the LLDPE film prices.   A source from the producer highlighted that several PE plants in the Middle East will be undergoing shutdowns soon. "We think that this situation will help maintain firm prices over the short term," he further added.