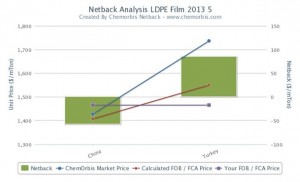 Middle Eastern producers have started to reveal their PP and PE prices for February in major global markets, as per the pricing service of ChemOrbis. These suppliers have approached the Chinese and Southeast Asian markets with relatively modest increases when compared to the large price hikes sought in Turkey and Egypt, particularly for PP.
In China, a Saudi Arabian producer has asked for $40-50/ton hikes for homo PP, HDPE and LLDPE film offers. A company source said, "Our overall PE allocation to China is less than normal for February while we have only half of our regular volumes for PP. This is due to the shutdown at our complex." He also informed that they have completed their PP sales due to their already limited quotas and competitive prices with respect to other regional suppliers. This producer has not made any PP offers to Southeast Asia due to the same reason while they applied a $50-60/ton increase for HDPE and LLDPE in Southeast Asia.
A Middle Eastern producer also raised its LDPE and LLDPE film offers by $15-25/ton for February. "Our allocation to China is limited this month as demand remains weak in this region due to the approaching holiday. Plus, we are trying to sell more to other countries where we can obtain more favorable margins," a source from the company said. He also underscored that they are not accepting the lower bids they receive.
Indeed, this producer's current LDPE and LLDPE prices are forming the high end of the overall market range in China. As can be seen from the graph below prepared by the ChemOrbis Netback Analysis tool, the estimated export LDPE prices of the Middle Eastern producer are not considered workable at all when compared to the average import prices of this week in China after adding the related freight rates from the originating country to China. However, they obtain larger margins in the Turkish market even after including the related freight rates.
When looking at the Turkish market, the producer has asked for $100/ton increases for LDPE and $80-90/ton for LLDPE. Meanwhile, a major Saudi Arabian producer's HDPE and LLDPE offers indicate monthly increases of $30-50/ton. The same producer is asking for a much larger increase of $100/ton for homo PP, causing serious jitters amongst Turkish PP buyers.
In the Egyptian market, this major is also asking for a $100-140/ton increase for February PP offers. The increases they seek in the PE market are relatively smaller at $60/ton for LDPE, $50/ton for LLDPE and $40-90/ton for HDPE film. Indeed, this producer has also issued significant hikes in its own local market for PP and PE this month.