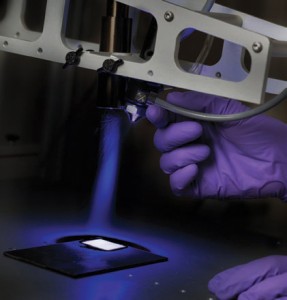 SANITIZED AG will launch pioneering innovations focused on sustainable protection for bio-based products and sensitive applications at PLAST 2012, May 8-12, in Milan, Italy.
The new advances put Switzerland's world-leading provider of antimicrobial hygiene function and material protection for textiles and plastics at the forefront of new opportunities to control and extend the service life of biodegradable and bio-based materials.
SANITIZED AG will also introduce PLAST 2012 visitors to a new one-package solution offering enhanced end-product performance and efficiency benefits to manufacturers in the highly-demanding application segments of medical, healthcare, and food processing.
New product highlights at Hall 9 stand C 29 will include:
 Long-lasting protection for bio-based plasticizers: tailor-made solutions focused on protecting materials made with bio-based plasticizers.
 Protection for biodegradable materials: opportunities to increase the antimicrobial resistance of biodegradable materials used in agriculture films or gardening end-products.
 Antimicrobial protection package: completion of Sanitized®'s Silver range with a new technology offering cost-saving and best-yet transparency for the medical and healthcare market and applications in the public area requiring fast and broad protection against microbes.
"SANITIZED's AG pioneering sustainable protection effects are supporting manufacturers in their trend towards the use of natural materials. This important growth area for the plastics industry is one of the many areas where SANITIZED AG offers added-value in protection, comfort and hygiene that we will present to the core of Europe's plastics industry at PLAST 2012," comments Maria Toscan, Product Manager Polymer at SANITIZED AG.
For more information visit SANITIZED at Hall 9 stand C 29 or www.sanitized.com.
About SANITIZED AG
SANITIZED AG is the leading worldwide producer of antimicrobial hygiene products and material protection for textiles and plastics. For over 50 years this pioneering Swiss company has used the latest technology to develop individual antimicrobial hygiene solutions. SANITIZED AG is committed to responsible ecological practices with products that use only scientifically researched and registered antimicrobial active ingredients, which have undergone strict, internationally approved risk assessments for man and the environment. The company also offers support for marketing and technical queries, comprehensive testing services, and a universally recognized brand and licensing concept.
For more information, visit the company's website at www.sanitized.com.