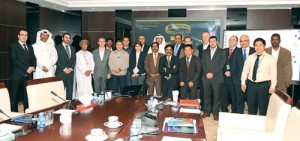 Representatives of Qatari firms that are attending "Plastic Industry 2012" (NPE 2012) in Orlando, Florida, US in April pose with senior QDB executives. As many as 13 major Qatari companies will participate in the event to be held under the auspices of "Tasdeer", Qatar Development Bank's export arm.
QDB recently held the final preparatory meeting with the companies concerned. QDB through Tasdeer will bear all expenses of the participating companies. The bank will have a 1,600 sq m pavilion at the event.
QDB chief executive Mansoor bin Ibrahim al-Mahmoud said the participation of the Qatari firms representing different sectors in the plastics industry, reflected its importance in diversifying the national economy away from oil and gas.
Tasdeer executive director Hassan Khalifa al-Mansouri said NPE 2012 is one of the most important events dedicated to the plastic industry and aimed at discovering new plastic manufacturing technologies.
Source : gulf-times.com