Energy-efficient extrusion lines which guarantee top-quality sheet are a basic requirement for a production output of 10,000 tons of thermoforming sheet per annum. This is why the Chinese company Guangdong Huasheng Plastics Co. Ltd., Shantou decided to purchase a thermoforming sheet extru-sion line with a high-speed extruder and a Multi-Touch roll stack from the Packaging Division of battenfeld-cincinnati, Germany. This is the first time that the new trendsetting technology of Multi-Touch has been delivered to a Chinese enterprise. So the success story of battenfeld-cincinnati's high-speed sheet extrusion lines continues.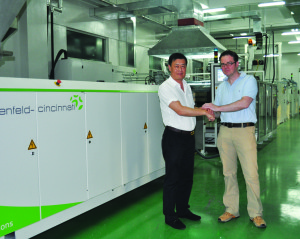 The Chinese plastics film & container producer, Guangdong Huash-eng, established in 1997, already operates two manufacturing plants today, where some 90 tons of cups and other types of con-tainers are produced daily in addition to 120 tons of PP, PS, PET, EVOH and PLA sheet. These products are used in the packaging industry both locally and globally. Guangdong Huasheng exports its products to more than 30 countries. Previously, the company used only locally produced extrusion equipment, and has now decided to acquire a line made in Germany for the first time. Guangdong Huasheng has installed the new line in a newly built production hall which complies with the latest standards of hygiene and is thus setting national benchmarks not only in terms of machinery in-stalled.
Guangdong Huasheng sees itself as a leading manufacturer of packaging products in the South Chinese market and aims to strengthen this position and expand into other parts of China and other countries in the rest of the world by this investment.
Company owner Mr. Wei Yunan comments: "The Chinese packaging market is one of the markets with the highest growth rates world-wide. We have also noticed a rise in the demand for higher stand-ards of quality and efficiency, to which we are responding with this investment. Since its production start-up in March, the Multi-Touch roll stack from battenfeld-cincinnati has already contributed sub-stantially to improving our product quality."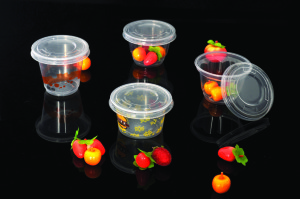 Thanks to its output of up to 1,400 kg/h of PP sheet, the new line is replacing a total of four to six previously used Chinese extrusion lines, which constitutes a significant reduction in space require-ments and operation expenditure.
The BC-75-40 DV T4 high-speed extruder is responsible for this enormous output. It has already firmly established itself in the global sheet industry thanks to its combination of high performance with modest space requirements and energy-efficient operation.
In addition to its high output, the new sheet extrusion line distin-guishes itself by excellent sheet quality and high flexibility. It is able to produce sheet ranging from 350 to 2,500 µm in thickness. How-ever, the unique selling point of this line is the new Multi-Touch roll stack which has come on the market only recently. The exceptional sheet quality it delivers is due to a unique roll configuration. First, a two-roll stack takes care of pre-calibrating the material coming out of the flat sheet die, then the sheet passes through the recalibra-tion unit equipped with up to seven smaller rolls. Thus consistent roll contact and consequently uniform cooling on both sides of the sheet is ensured, even at maximum line speeds. The outcome is a significant improvement in sheet tolerances and production of stress-free sheet with optimal transparency, excellent flatness and a uniform thickness profile.