The all-new Ford Transit makes its North American debut with more durable paint, thanks to an industry-first paint technology now in use at Kansas City Assembly Plant.
Ford celebrated the start of North American Transit production at Kansas City Assembly Plant on April 30, and vans will be available on US and Canadian dealer lots this summer.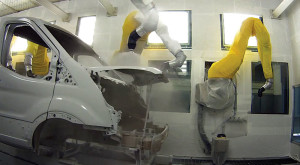 The Transit vehicles built in Kansas City are the first to use the new two-wet monocoat paint process developed by Ford and its paint suppliers. The technology results in more durable paint, uses less energy and water, and reduces carbon dioxide and particulate emissions compared with conventional paint processes, according to Ford.
Improving durability
The new paint had to meet or exceed "Built Ford Tough" standards, and was subjected to a battery of tests that simulates typical conditions the vehicle will see during 10 years. The paint was tested for its resistance to chipping and scratching, pollutants and sun exposure. Advanced weathering testing preliminary indicates that paint applied with the new two-wet technology will retain 90% of its gloss at four years in service compared to 1% gloss retention for paint applied using a conventional monocoat process.
"Durability was a critical consideration when we initiated this project," said Dennis Havlin, Ford global paint engineering development and launch supervisor. "The advancements in paint chemistry enable us to deliver the appearance, performance and durability our customers demand."
Achieving sustainability
In addition to making paint tougher, the process reduces painting time and energy use by cutting the number of paint applications from three to two and the number of drying procedures from two to one.
It is another example of the innovative technologies Ford is implementing to support its global manufacturing strategies with regard to carbon dioxide emissions and water use, Ford says. The company plans call for a 30% reduction in carbon dioxide emissions per vehicle produced from 2010 to 2025, and a 30% reduction in water use per vehicle produced from 2009 to 2015.
The new paint process uses less energy and water, and reduces carbon dioxide and particulate emissions compared with conventional paint processes. According to preliminary testing, the reduction in paint and energy consumed is expected to result in 9,500 tons fewer carbon dioxide emissions and a 35-ton savings in particulate emissions on an annual basis.
In addition, an innovative dry scrubber system will help save more than 10.5 million gallons of water. Overall, the system should save 48,000 megawatt hours of electrical power, enough electricity to power 3,400 homes.
Being used for white-colored vehicles
The two-wet monocoat process uses a primer coat that requires only a few minutes of open-air drying time before the color coat is applied. The color coat is formulated with the same appearance and protection properties of the clear coat, which eliminates the need for a separate clear coat. The painted body is fully cured in an enamel oven after the color coat is applied. The total process removes one paint application step and one oven drying step when compared to conventional paint processes.
The new paint procedure is being used for white-colored vehicles, which account for 80% of Ford Transit production at Kansas City Assembly Plant. As each color must be developed uniquely for the two-wet monocoat process, other colors will be considered based on demand. A conventional three-wet process – primer, base coat, clear coat – remains in use for metallic-colored vehicles.
Gaining production efficiencies
The two-wet monocoat system helps increase production efficiency. The more streamlined process takes the vehicle body through an electrostatically bonded corrosion-resistance (E-coat) bath. The Transit body remains on a carrier that is lowered into the E-coat by four pendulums, rather than being manually removed from the carrier and attached to chains to be taken down, only to have to repeat the same steps before moving on to the paint booth.
The pendulums take the vehicle body into and out of the bath at steep angles, reducing the length of the bath by as much as 320 feet. Transit's paint operation requires less space than that used in production of the smaller Ford Fiesta.
"The two-wet monocoat process allows us to design a system considerably smaller than a conventional paint shop, especially with regard to a vehicle of this size and complexity," said Havlin. "Because painting time is cut down, the technology enables greater productivity using less equipment."