"Faster, thinner, lighter – Perfect packaging for future trends" is the motto of this year's Packaging Days, which is hosted by injection moulding machine manufacturer Sumitomo (SHI) Demag in cooperation with established partners from the packaging industry on 5 and 6 May 2015 at its headquarters in Schwaig near Nuremberg/Germany.
The event with a focus on innovative system solutions for thin-wall, cap and in-mould labelling applications features the live production of several exhibits, presentations and an exclusive evening event.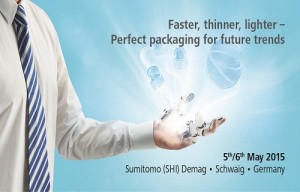 Which raw materials are sustainable? How can instrumentation improve injection moulding processes during cap production? How to tap into the potential of thin-wall and IML technology? These are only three of the questions addressed by experts at Packaging Days. Presented in English and German, the papers will provide an interesting insight into the most important future packaging trends.
The programme, which is identical on both days, starts at 9.30 a.m. At the end of each day, participants are invited to meet in the "Blaue Salon" (blue salon) of the "Delphinlagune" (dolphin lagoon) of the "Nürnberger Tiergarten" (Nuremburg zoo).
Website:   www.sumitomo-shi-demag.eu