A new study by Ceresana predicted that the global polyamide (PA) 6 and 66 market, at US$24.4 billion in 2014, will grow by 3.1% per year to around US$31.2 billion in 2022.
Synthetic fibers made of PA, colloquially called "nylon", offers strong tear and abrasion resistance. They also have high elasticity and shape stability.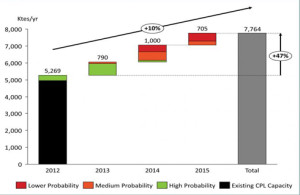 PA 6 and PA 66 are mainly used for the production of textile and industrial filaments, e.g. continuous filaments as well as carpet and staple fibers. A smaller part of around 43% of polyamide production is processed for technical plastics.
"In 2014, global revenues of US$24.4 billion were achieved with these two polyamide types," said Oliver Kutsch, CEO of the market research institute Ceresana. Its latest study expects sales growth for PA from 3.1% per year to around US$31.2 billion in 2022.
As PA is also resistant to lubricants and fuels, they are often used in the transportation area for example for brake hoses, plug connectors, battery cases, oil sumps, switches and handles.
Electrical applications and electronics are the second largest application area. For this segment, Ceresana expects the highest percentage growth of average rates of 4.3% per year until 2022.
The major part of total demand for polyamide accounts for the type PA 6, which is mainly used for textile and industrial filaments. This market is dominated by the Asia Pacific region that reached a global demand of approximately 68% in 2014.
It was because Asia converted nearly 1.5 billion tons of the light, well dyed PA 6 into fibers, said Ceresana.
With regard to the type polyamide 66, technical applications account for almost 56% of global demand – in Western Europe even 71%.
Website:   www.adsalecprj.com