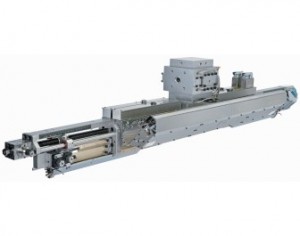 Nordson EDI has completely re-engineered its EPC edge bead-reducing extrusion coating die, yielding a more robust system that is easier to operate and cuts back substantially on downtime for width changes and cleaning,
The patent pending EPC system showing at CHINAPLAS 2013 will incorporate: 1) an Autoflex VI automatic gauge profile control; 2) an Ultraflow V feedblock for multilayer coatings; 3) a new-design deckle system for rapid width adjustment and simplified removal for die cleaning; and 4) a device for quick removal of die buildup. Within the Ultraflow V feedblock are adjustable "combining planes", located where the melt streams join the central flow channel, that operate in two modes – either automatically adjusting layer material flows or permitting fine tuning through manual adjustment.
Deckles are mounted at either end of a die and used for varying the width of the coating. As in the past, the new EPC die includes an external deckle as a secondary seal to prevent leakage and an internal deckle system that sets coat width and seals polymer at the die exit.Internal deckle parts provide independently adjustable components that seal off portions of the internal flow channel and can be positioned to minimize edge bead. Similarly, a manual or automated system for adjusting a flexible lip of the die makes it possible to maintain coat weight uniformity.
Source: http://www.adsalecprj.com/Publicity/MarketNews/lang-eng/article-67004567/Article.aspx