One of Engel's highlights at Plast 2015 will be process integration, shown through the production of center console components in vehicles with polycarbonate-acrylonitrile butadiene styrene (PC-ABS).
Engel will be using an Engel duo 2550/550 injection molding machine with integrated Engel viper 20 robot to combine two technologies: Engel foammelt, the MuCell foam injection molding process developed by Trexel in the USA, and Engel variomelt, a variothermal injection molding process on the basis of Roctool technologies from France.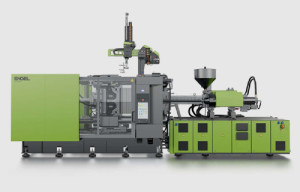 As said, the double technology integration enables the production of thin-walled parts with high quality surfaces and superior structure reproduction at the same time in a single injection molding step.
To demonstrate the versatility of this amalgamation of processes, the sample part will have varying wall thicknesses and surface structures, said Engel.
Based on the Engel foammelt, the cavity, including the undercuts, is completely filled, and the component has no sink marks after cooling; meanwhile variothermal temperature control provides a high gloss finish without weld lines.
Website:    www.adsalecprj.com