Ulsan, Korea – May 04, 2015 – Songwon Industrial Group (www.songwon.com) has signed a joint venture (JV) agreement with Qingdao Long Fortune Chemical & Auxiliary Co., Ltd. (QLF) for the production and sale of its One Pack Systems (OPS) and the sale of polymer stabilizers in China, one of the world's largest and fastest growing polymer markets.
The JV will be based in the Qingdao area of Eastern China. The agreement also includes investment into a state-of-the-art OPS plant which will be located in the Pingdu County industrial park. Construction is estimated to start at the end of Q2/2015 and the plant is expected to be fully operational by the end of Q1/2016.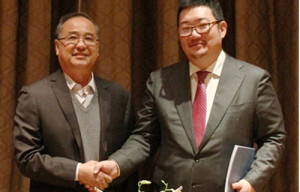 The establishment of a manufacturing facility that provides customers with innovative additive formulations in customized, dust free and easy disposable product forms, positions the JV to become a preferred supplier to the polymer industry in China.
"We are pleased to be teaming up with a competent partner that has such a superb reputation among all the major Chinese polyolefin manufacturers," said Jongho Park, Chairman and CEO of Songwon. "The partnership provides an excellent opportunity for us to build a manufacturing presence in China and further strengthens Songwon's ambition to become a leading polymer stabilizer supplier in this important region."
"We are excited to partner with a leading global player to complement our extensive experience in the Chinese polymer industry. Our joint venture brings promising opportunities for growth and we are confident that it will also generate attractive returns", said Feng Huang, General Manager of QLF.
Website:   www.songwon.com