Development is fruit of cooperation between Air France-KLM-Martinair Cargo, AmSafe Bridport and DSM
The Netherlands, 9 July 2013 – Air France-KLM will further cut tonnes from its annual aircraft carbon dioxide emissions, simply by using revolutionary new lightweight cargo nets that it is now introducing. Just one new lightweight net with Dyneema® will save Air France-KLM-Martinair Cargo over 210 gallons of kerosene fuel per year. That means CO2 emissions will be over 2.5 tonnes less per net per year.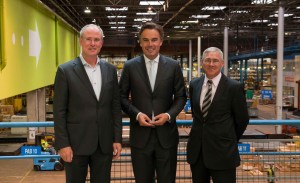 It is the first major airline group to replace all cargo nets, normally made in polyester (PET) fiber, with lightweight nets made with an ultrahigh molecular weight polyethylene (UHMwPE) produced by DSM Dyneema, branded as Dyneema®.
The new nets with Dyneema® weigh around 9 kg, half as much as traditional nets in PET fiber.Produced by AmSafe Bridport, world leader in aviation restraint technology, the nets will in future be used on all aircraft operated by Air France-KLM-Martinair Cargo, the dedicated air cargo business of the Air France-KLM Group.
On July 9th, at Schiphol airport in Amsterdam, the first nets made with Dyneema®—described by producer DSM Dyneema as the strongest fiber in the world—were formally handed over to Camiel Eurlings, CEO of KLM, by Atzo Nicolaï, President Netherland of DSM, and Ian Kentfield, President of AmSafe Bridport.
There are more advantages to the nets than emission savings. Operatives will be able to handle the nets more easily and safely, and because the nets are more damage-resistant than polyester nets, they require around half as much maintenance.