Hexagon Metrology takes measuring technology in the manufacturing environment to the next level
Hexagon Metrology announces today the launch of Leitz SIRIO Xi, the new standard for the shop floor. Its designers concentrated on six key customer requirements: maximum throughput, maximum precision, maximum efficiency, maximum speed, maximum competence and a forward-looking technological configuration as part of Germany's "Industry 4.0" concept.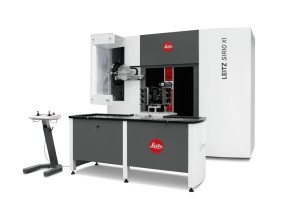 The result is convincing in every respect: the Leitz SIRIO Xi features impressively high availability and low life cycle cost while continuing the Leitz hallmark of high measuring precision. Leitz SIRIO Xi benefits from an extremely robust design and can be quickly and easily set up or moved. Equipped with a stylus changer (with up to 24 magazine positions) and a new control unit, the SIRIO Xi enables excellent flexibility and reproducibility, providing ideal support for networked manufacturing processes and serial production process control. With its proprietary rotary table, Hexagon Metrology has once again raised the bar in application and operation technology, too.
Hexagon Metrology has consistently implemented the principle of "dynamic mass is light, static mass is heavy". The high static overall mass with low center of gravity gives the measuring machine stability as well as resistance to forces and vibrations. Because local temperature fluctuations are the enemy of metrology, we use high-quality materials in the development of the Leitz SIRIO Xi. The machine offers excellent thermal conductivity combined with high stiffness. Thermal compensation minimizes temperature gradients throughout the whole machine; every single day and allows measurements in a temperature range of up to 40 °C.
"The machine is a turnkey solution, ready for the production environment." says Gerhard Ehling, Sales Support Manager at Hexagon Metrology GmbH. "Close cooperation with our customers and years of experience in hardware and software development make us the specialists for complete solutions. We know that reliability and availability are key criteria for metrology on the shop floor. Our offering consists of hardware, software, sensors and services out of one hand. With our comprehensive range of accessories, we can equip the Leitz SIRIO Xi for your specific applications and make sure that it integrates seamlessly into any production process."
The Leitz SIRIO Xi is immediately available in the EMEA region from Hexagon Metrology's commercial operations.
About Hexagon Metrology
Hexagon Metrology offers a comprehensive range of products and services for all industrial metrology applications in sectors such as automotive, aerospace, energy and medical. We support our customers with actionable measurement information along the complete life cycle of a product – from development and design to production, assembly and final inspection.
With more than 20 production facilities and 70 Precision Centers for service and demonstrations, and a network of over 100 distribution partners on five continents, we empower our customers to fully control their manufacturing processes, enhancing the quality of products and increasing efficiency in manufacturing plants around the world. For more information, visit www.hexagonmetrology.com.
Hexagon Metrology is part of Hexagon (Nordic exchange: HEXA B). Hexagon is a leading global provider of design, measurement and visualisation technologies that enable customers to design, measure and position objects, and process and present data.
For further information, please contact:
Melanie Stutz, Marketing & Communications Coordinator
Phone:+41 44 809 3577, E-mail: [email protected]