The HH-A-2.5 range of probe heads feature a number of new innovations including a fully embedded controller, capacitive crash protection and the all new heavy duty kinematic joint. All of the probe heads in the range benefit from a completely redesigned drive system including a Hirth Gear for accurate positioning of the probe.
The new design delivers the advantage of a high degree of indexable positions and very high rotational torque. The Probe Heads can either be mounted on the CMM with a shank or flange, alternatively the HH-AS8-2.5 can be mounted on any CMM with an 80mm ram. Sensors are mounted on the head through the TKJ or HDKJ adaptors and can be changed either manually without the need for requalification or automatically with a tool changer.
HH-A-T2.5 Probe Head – a new degree of freedom
The HH-A-T2.5 is capable of indexing in 2.5° increments and can achieve 12,240 unique positions.  The head is fitted with a kinematic joint (TKJ) which can be connected to a Multiwire to give multi sensor support. The TKJ carries extensions of up to 450mm.
HH-A-H2.5 Probe Head – HEAVY DUTY – for the most challenging applications
The HH-A-H2.5 is capable of indexing in 2.5° increments and can achieve 20,736 unique positions due to increased rotation of the A Axis (± 180°). The head is fitted with the Heavy duty kinematic joint (HDKJ), which can be connected to a Multiwire to give full multi sensor support. The HDKJ carries extensions of up to 750mm. Laser scanners and scanning heads can be supported further from the axis of rotation than with conventional probe heads due to the combination of extreme rotational torque and the HDKJ adaptor.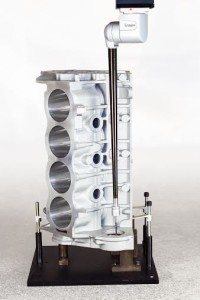 About Hexagon Metrology
Hexagon Metrology offers a comprehensive range of products and services for all industrial metrology applications in sectors such as automotive, aerospace, energy and medical. We support our customers with actionable measurement information along the complete life cycle of a product – from development and design to production, assembly and final inspection.
With more than 20 production facilities and 70 Precision Centers for service and demonstrations, and a network of over 100 distribution partners on five continents, we empower our customers to fully control their manufacturing processes, enhancing the quality of products and increasing efficiency in manufacturing plants around the world. For more information, visit www.hexagonmetrology.com.
Hexagon Metrology is part of Hexagon (Nordic exchange: HEXA B). Hexagon is a leading global provider of design, measurement and visualisation technologies that enable customers to design, measure and position objects, and process and present data.
For further information, please contact:
Marketing & Communications SENSORS
Phone:+49 7529 9733 65, E-mail:[email protected]