According to ChemOrbis, China's polymer imports declined for a third consecutive month in November, reflecting the muted state of demand in the country along with slower than anticipated economic growth. Even though imports for certain products moved up month on month, they suggest visible decreases year on year. Similar to November, overall demand for polymers has not been encouraging this month and players are not optimistic about the January outlook as they do not expect to see a revival in demand until after the Chinese New Year holidays in late February.
Decreasing polymer import trends reflected a broader slowdown in China's trade. Media reports based on data from China's Commerce Ministry stated that the country's trade will expand by 3.5% this year, well below initially estimated figures of around 7.5%. Additionally, the Commerce Ministry lowered its trade growth forecast to 6% for 2015 when compared with trade growth target of 7.5% set for 2014. The Ministry pointed to stronger competition from other developing markets such as India and Vietnam among the main reasons for their slower growth expectations.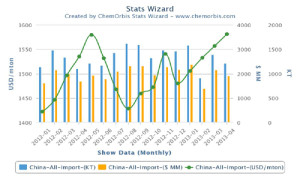 Meanwhile, the Chinese Academy of Social Sciences predicted another year of falling urban real estate prices in 2015, predicting that country's third and fourth tier cities would suffer the steepest losses. The report predicted that the country's economy would see a soft landing as local governments are likely to take policy steps to support the market. According to ChemOrbis, all of these factors point to a broader economic slowdown in China, which may miss its 2014 target of 7.5% GDP growth.
The Chinese Customs Administration revealed that the country's total polymer imports edged down by 1% month on month in November to reach 1,265,431 tons after decreasing by 7.7% in the previous month. When compared to the same month of 2013, total imports are suggesting a larger drop of 19%.
For LDPE, China's imports posted a decrease of 5.1% month on month to reach 156,501 tons while they were down 12.4% year over year. The top LDPE supplier was Iran with 48,811 tons, followed by South Korea (18,878 tons). LLDPE imports climbed 2.4% month over month to reach 158,751 tons in November while they were down 30% on the year, with Singapore standing at the top of the LLDPE import list with 44,838 tons.
The country's HDPE imports, on the other hand, increased 2.8% month over month to 358,124 tons in November. Iran was the top supplier to China with 86,035 tons of HDPE, followed by Saudi Arabia (77,059 tons), the United Arab Emirates (52,001 tons) and South Korea (41,838 tons). Year on year, China's HDPE imports came down around 22%.
Imports for homo-PP retreated 7.5% from the previous month to reach 261,627 tons. On a yearly basis, homo-PP imports were down around 24%. The top exporter to China was South Korea (71,554 tons), followed by Saudi Arabia (50,728 tons) and Singapore (28,453 tons). PP copolymer imports slipped 1% from October to 104,091 tons. Taiwan was the top exporter to China with 23,557 tons followed by Singapore (21,943 tons) and South Korea (19,698 tons).
For PVC, imports climbed 12% month on month to 55,483 tons while year-over-year imports decreased 2.6%. The top exporter was the United States with 22,464 tons, followed by Taiwan (18,743 tons) and Japan (10,189 tons).
China's PS imports were up 1% month over month to 46,280 tons in November, while imports slumped 36% from a year earlier. Taiwan was the top supplier with 17,131 tons.
The top five polymer exporters to China in November were South Korea (212,678 tons), Saudi Arabia (182,983 tons), Taiwan (154,262 tons), Iran (137,870 tons) and Singapore (106,733 tons).