According to ChemOrbis, in Middle Eastern markets, players have begun to voice their January expectations while a major Saudi Arabian producer already announced their new PP, PE and PS prices with decreases to their local market.
The Saudi producer revealed their new January PP, PE and PS offers at the end of last week and the new announcements came in line with the previous market expectations.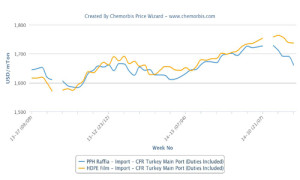 The producer's new prices indicate SAR600-675/ton ($160-180/ton) decreases for PE while they represent even larger drops of SAR900/ton ($240/ton) for PP and PS for January. A distributor who received these prices from the producer commented that the decrease amounts even exceeded their expectations.
In order to track weekly developments in the Middle East's PE market, please see our bi-weekly Polymer Digest Middle East PE Polymer Digest (For members only)
Prior to the new announcements, Saudi players were already voicing lower price expectations for January, highlighting weak buying interest and comfortable stock levels in the country.
Lebanese buyers have also been talking about the fact that three digit December decreases of around $110-130/ton failed to generate any buying interest. Most players in the country anticipate that the decreasing trend will continue into January. "Demand is weak and oil prices are not supportive," a converter underlined. The recent volatility in crude prices and large decreases in other global markets cause buyers to be more cautious when making fresh purchases.
A distributor from the United Arab Emirates said, "Most buyers are waiting for the new year to go back to the market and make fresh purchases. At the moment, demand is performing very poorly." Meanwhile, a trader operating in the country said that even decreases of over $200/ton could be possible when considering the globally bearish trend.
In order to track weekly developments in the Middle East's PP market, please see our bi-weekly Polymer Digest Middle East PP Polymer Digest (For members only)
An Emirati trader, who received Middle Eastern PP raffia prices with $90/ton reductions for December, also commented during this past week, "Overall offer levels are lower when compared with the beginning of the month since buying interest is thin. Most buyers are delaying their purchases given their further decrease expectations in January."
Jordanian buyers, who received three digit decreases for December, continue to keep their purchases at minimums. A Jordanian converter, who concluded December deals with additional decreases of $20/ton, reported, "Our end product business is slow and our stock levels are sufficient. Therefore, like many others in the market, we do not want to purchase beyond our needs." Players in Jordan are also voicing their expectations for lower January prices.
According to ChemOrbis, looking at other global markets, Middle Eastern prices have already started to surface with very large decreases. Southeast Asian players started to receive $260-270/ton decreases for PP and up to $320/ton decreases for PE from Middle Eastern producers. Meanwhile, in Turkey, Middle Eastern sell ideas have started to surface with three digit decreases as well.