Spot benzene and styrene costs in Asia have pared some of their losses over the week after recording relentless decreases for 5 months, according to ChemOrbis. The upward movement was mainly attributed to concerns about supply limitations in early 2015 owing to scheduled styrene shutdowns region wide. Plus, crude prices have also held steady recently, trading within a narrow spread of $54-56/bbl on the NYMEX for the past few days. Sellers in downstream PS markets are trying to stabilize the market by announcing modest hike attempts while buyers retain their expectations for further reductions.
Crude oil prices on the NYMEX had fallen by less than $1/barrel on a weekly basis just before the Christmas holidays, although prices are still down around $13/barrel from early December. Spot benzene and styrene values rose $45/ton and $85/ton, respectively, on an FOB South Korea basis week over week. However, they indicated decreases of $195/ton and $100/ton, respectively, from early December.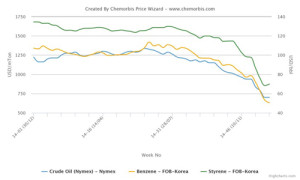 In China, local PS offers firmed up by CNY200/ton ($32/ton) when compared to last week. A domestic A-grade PS producer cited higher styrene costs as the reason for the price increase but admitted that they continue to provide discounts for serious buyers. "GPPS supply is a bit limited due to maintenances at several small scale plants, which has caused some buyers to replenish some cargoes. However, we are not sure that prices can maintain their recent gains over the coming weeks," a producer source opined.
A Shanghai-based trader confirmed that sellers were still open to negotiations even though list prices are slightly higher. "Demand is not really active while PS prices received some support from styrene. We are not optimistic about the demand outlook for the near term," he stated.
In the import market, a trader commented that they managed to obtain offers at prices below the new list prices announced by producers. "We expect prices to soften further amidst a lack of any real support for further gains. Some converters are using PP high transparency grades to replace GPPS," he added.
In Southeast Asia, a regional producer tried to maintain his PS prices, citing firmer styrene prices as support for their stable pricing strategy. "We are mostly maintaining our low end offers or are giving only small discounts of around $10/ton," a producer source stated. A converter in Malaysia reported that they expect to see further reductions despite the recent rise in styrene costs, adding that they are running out of material and may purchase some quantity before the year ends.
According to ChemOrbis, in production news, Styrindo Mono Indonesia may shut its styrene units in Merak next week due to an outage at Chandra Asri's cracker, which supplies most of SMI's ethylene feedstock. Elsewhere, Taiwan Styrene Monomer delayed the restart of its 160,000 tons/year styrene plant in Lin Yuan from November 2014 to the second quarter of 2015. The plant has been down due to technical issues since September of this year. The company also reduced operating rates at its 380,000 tons/year styrene unit at Kaohsiung due to negative margins earlier in December. Downstream, the SCG-Dow Group will shut its 200,000 tons/year PS plant in Map Ta Phut, Thailand in the first quarter of next year while Hong Kong Petrochemical will shut its 140,000 tons/year PS plant for a turnaround in the same period.