In Italy, decreases are passing on November PET deals and players started to voice bearish expectations for December considering lower upstream costs and the prevailing weakness in demand as per the pricing service of ChemOrbis.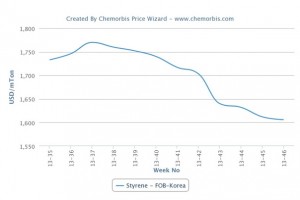 An initial November PX contract settled down €53/ton from October on an FD NWE basis at the end of last week. An initial MEG contract for November also settled with a decrease of €36/ton from last month, weighed down by the lower nominations in Asia.
A South European producer concluded November deals with discounts of €30/ton from October. A source from the producer commented, "Demand is quite slow as most buyers are already covered until the new year. Prices are likely to maintain their downward trend in December as we expect demand to weaken further in the upcoming months."
A converter reported receiving November offers with decreases of €50/ton from October, but added that he did not accept these levels as he has sufficient stocks after securing some import cargoes at competitive levels. He commented, "Our end product demand has lost speed so our feedstock consumption is lower compared to the same period of last year. We were forced to lower our prices due to weak demand and we expect to see further softening next month."
Sluggish demand combined with lower upstream costs will continue to dampen the sentiment in the PET market in the short term while supply may relatively tighten as the European PET market is expected to see reduced output in the upcoming months. Spain's Novapet is planning to shut its PET plant in Barbastro for maintenance between December 2013 and January 2014. The turnaround at the 130,000 tons/year plant was initially scheduled to start in April 2014, but the date was brought forward due to poor market conditions.
According to ChemOrbis, Thailand's Indorama Ventures is planning to suspend production at its PET plant in Workington, the UK due to poor margins. Market sources said that the company could halt its operations at the 168,000 tons/year plant for as long as two years. Several other regional suppliers were said to be operating below full rates, with some plants even running at 50% of their capacities.