In Asia, import PS markets continued with their decreasing trend for another week and the overall ranges shed $10-30/ton in China while they lost $10-20/ton in Southeast Asia as per the pricing service of ChemOrbis. Import PS markets have been retreating since early October in the region while players voice no different expectancies on the price trend for over the near term.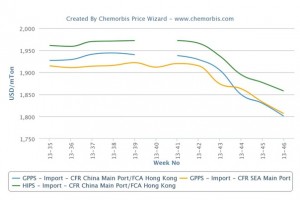 There are a few reasons behind these bearish expectancies but sluggish demand is pointed to as the main factor behind these drops since buyers resist higher offer levels amidst their weak end product demand. Apart from the thin buying interest, ongoing declines seen on Asian styrene costs coupled with lower oil prices, which remain below $95/bbl on the NYMEX, also played a role in softening PS markets.
In China, most players opt to do back-to-back business while lower prices result in more players being sidelined from the market. Cautious buying interest pushes sellers to make further decreases on their prices. A Chinese trader commented, "We cut our GPPS and HIPS prices in line with the overseas producers' cuts. Lower styrene costs cause us to lack confidence regarding the market outlook. The distribution market, too, lost ground as the domestic producers also elected to lower their prices in order to conclude deals."
In Southeast Asia, players complain about not seeing any pick-up in demand. A regional producer, who issued $30-50/ton decreases on their prices, said, "Market talk has it that around 70,000 tons of styrene is coming to Asia from Europe and the US and we believe that ample supply for styrene will cause the downward pressure on PS prices to remain in place."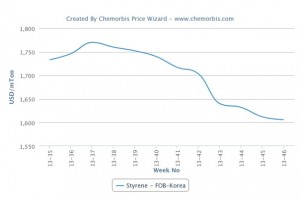 A converter commented, "We continue to receive lower PS offers but we are not interested in making fresh purchases at the moment as we believe that prices still have room to soften ahead of the impending year end. We prefer to wait for further decreases before committing to fresh cargoes." In addition, a trader offering on behalf of a Taiwanese producer, who cut their prices by $20-30/ton, said, "Demand would normally gain speed in the months leading up to the Chinese New Year holidays, but we have seen no real increase in buying interest yet."
According to ChemOrbis, despite the bearish expectancies and lower PS prices, some sellers started to voice hopeful views based on the stabilizing styrene costs. They remark that if styrene costs stabilize, they may stop large decreases from occurring on PS offers. Spot styrene prices closed last week at $20/ton higher levels with respect to the previous week although they are still below late October levels.