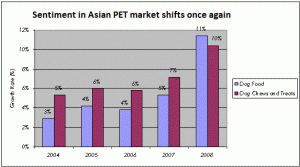 Asian PET markets had revived into the second week of April on the back of the rising spot PTA and MEG feedstock prices as per the pricing service of ChemOrbis. Sellers had been reporting satisfactory sales following their price hikes although these increases were not long lived as the market turned downward given the significant declines witnessed in energy markets which put a stop to the earlier increases seen in spot prices for PTA and MEG.
During last week, spot PTA and MEG markets mostly followed a stable trend since crude oil prices on the NYMEX have risen 8% over the past six days, the longest rally since July 2012. NYMEX June crude oil futures rose $2.21/barrel to settle at $93.64/barrel on Thursday, the highest settlement since April 10.
This situation coupled with improved demand and the lower stock levels on the producers' side revived PET buying interest in Asia once again. Meanwhile, China's March export figures were published and they show a record high export volume of more than 162,000 tons of PET during last month. Players attributed the higher export volume to buyers' delayed purchases during January and February owing to the long holidays that took place in these months. Looking at the most recent export prices reported last week, prices indicate $10-20/ton increases on FOB China/South Korea basis when compared with the previous week.
Chinese PET producers appear confident due to firmer energy prices and their comfortable stock levels. However, they still cannot pronounce a solid expectation regarding the future market trend given volatile upstream markets, despite the onset of the high season for PET applications. A Chinese producer reported," We were offering at steady levels last week and we already sold out our May allocations. Feedstock costs recorded slight increases in line with firmer oil prices and therefore, we anticipate some upward movement on PET prices in the days ahead."
Another producer from the country commented, "We were not willing to offer much discounts last week given firmer upstream markets. Plus, we do not feel under any stock pressure and therefore, we are not rushing our sales. We expect to see higher offer levels in May."A trader commented, "We lifted our prices slightly during the past week in order to keep up with higher energy prices. We are seeing normal buying interest amidst warmer weather conditions. We prefer to keep a close eye on upstream markets in order to have a better idea of the future market trend. However, we do not think that large increases are likely to pass in the PET market."
A different Chinese producer, who conceded to some discounts last week, said that overall demand is healthy but added that they still feel uncertain about the future market trend as they think that upstream markets are following a very volatile trend, which makes it hard to forecast the market outlook.Another producer, who is currently running their plant at 90% capacity, reported that they are maintaining their PET prices in order to avoid dampening buying interest according to ChemOrbis. "Our sales are proceeding normally and we are holding low stock levels. Previously, we had been thinking that prices were likely to gain ground in the days ahead, but now we are not so sure since most buyers have built up stocks since March," he added.