The use of "water white clear" potting compounds and encapsulants has increased substantially with the growth in LED lighting technology – Opti-tec 4200 from Intertronics is a high performance example.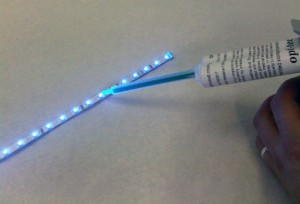 It is a low viscosity optically clear, non-yellowing polyurethane compound ideal for potting of LEDs and electronics, even in external situations where encapsulation with Opti-tec 4200 protects lighting and associated components from the environment, while ensuring maximum light transmission during years of service – it has excellent long term UV stability.
Typical applications include outdoor signage, illumination projects, e.g. pathways, swimming pools or fountains and in large public installations. It can be used for protecting photovoltaic and solar panel projects, as well as decorative giftware (e.g. flower impregnation). It is also an excellent resin for the doming of badges, labels and decals.
Further important features include its hard set which enables it to resist impacts, scratches and mechanical loads better than alternative chemistries like silicones. It is also easy to mix, with very low viscosity, excellent penetration/air release, low shrinkage and low exothermic properties. Opti-tec 4200 is available in a convenient side-by-side double syringe cartridges, twin pack sachets and bulk packaging. For further information please see www.intertronics.co.uk/products/opt4200.htm or visit their blog at www.adhere.uk.com