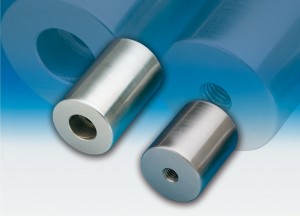 HASCO support pillars Z 57/… and Z 571/… are used to support mould plates or intermediate plates in order to bridge fairly large gaps between the mould risers. Adapted to riser heights for the K40/… and K45/… the range has now been extended to cater for bigger mould bases.
With new additional sizes and lengths, support pillars Z57/… with thread and dowel holes and support pillars Z571/… with a clearance hole offer the user a large number of options for partial support in the mould.
For special applications it's possible for customers to reduce the standard length, maintaining a simple and standard solution for avoiding mould deflection whilst ensuring a high level of safety and efficient production during the entire injection moulding process. Moreover, eventual maintenance or replacement requirements downstream are kept to standard parts as much as possible.
HASCO will offer this and many other extended or new accessory product ranges at the K'2013 exhibition in Düsseldorf/Germany. Pay us a visit at Hall/Stand 01/A23.