69 Longtime NPE Exhibitors Have Taken 18.5% More Space than at the Pre-Draw for the Last NPE; the Largest Booth in NPE History Is Assigned to Milacron
WASHINGTON, DC, U.S.A., July 30, 2013: With 20 months still to go before the NPE2015 international plastics exposition, 69 longtime NPE exhibitors have committed to close to a fifth of the total space anticipated for the show and set new records for advance space selection, it was announced today by SPI: The Plastics Industry Trade Association, which produces the triennial NPE.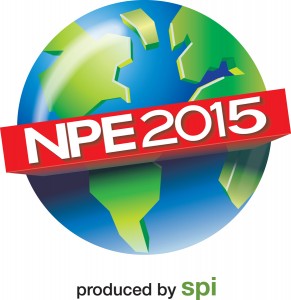 The selection took place this month at a special "Pre-Draw" which allowed companies that have exhibited in at least 16 of the past 27 NPEs to choose space in advance of the Space Draw event to be held in February of 2014. The 69 companies committed to 179,600 net square feet (16,685 sq.m) of exhibit space, which is 18.5% more than the total for the NPE2012 Pre-Draw.
One exhibitor, Milacron Inc., chose a 24,600 sq.ft (2,285 sq. m) space that will constitute the largest booth in NPE history. "Milacron is excited to be exhibiting at NPE2015," said Shawn Reilley, Milacron group vice president of sales and marketing for Global Plastics Machinery. "We have several highly innovative initiatives underway that we'll be showcasing in our booth, and we are fortunate to be able to share our space with new and existing partners in plastics. Milacron has a big story to tell, and we decided we needed a lot of square footage to tell it correctly."
In addition to companies that selected exhibit floor space, other companies, among them Formosa Plastics Corp. and LyondellBassell, chose extensive customer centers or showcase areas in ballrooms adjacent to the exhibit floor. Combined with exhibit floor space, these commitments increased the total space chosen at the Pre-Draw to 217,600 sq.ft. (20,215 sq.m).
Pre-Draw Results Are Harbinger of 'New Era of Growth' in Plastics
"The pre-draw results reflect mounting confidence in the economy and in the enhanced strength of NPE following the successful 2012 show," said William R. (Bill) Carteaux, SPI president and CEO. "There is now a broad consensus that our industry is poised for a new era of growth and needs NPE more than ever as a showplace for technology and a hub of trade for plastics companies from the Americas, Europe, and Asia."
Another factor in the large space commitment at the NPE2015 Pre-Draw was the overwhelmingly positive response of exhibitors to the Orlando, Florida show venue, which was new for NPE2012 and will be the site of NPE2015. "The city of Orlando and the Orange County Convention Center provided NPE2012 exhibitors and attendees with cost and logistical advantages over our previous location," said Gene Sanders, SPI senior vice president for trade shows and conferences. "In addition, the strategic location of Orlando for visitors from fast-growing markets in Latin America proved to be valuable to many exhibitors."
At both the Pre-Draw and the upcoming Space Draw, SPI utilizes a system designed to ensure fairness in the allocation of space. It assigns selection priority according to the number of previous NPEs in which a company has exhibited and whether or not it is an SPI member. Within each priority category, the order in which space is selected by companies is determined by a random lottery.
Close to 1,000 companies are expected to participate in Space Draw, which will take place February 19-21, 2014 at the Rosen Shingle Creek Hotel, Orlando, Florida. This event also includes educational workshops around planning, show operations, and marketing. The entire NPE staff, as well as show contractors and local Orlando properties, will be on hand to assist exhibitors with strategy, planning, and show orders. Applications to participate in Space Draw will be posted at www.npe.org/spacedraw within the next two weeks.